With the marked increase of mobile phone users globally as well as in Australia the point of an app is the ease of interaction on a smaller screen as well as the go anywhere anytime environment extending the reach of your message and sales point.
There are more than 13,425 apps from Australian-based providers out of the 2,757,238 apps on Google Play. The most Australian downloaded apps are QLDTraffic, myGovID, BOM Weather, Express Plus Medicare, Binge, 9Now, Stan, MyMacca's, Live Traffic NSW, 13cabs. Less than 1% of all apps on Google Play are from Australian publishers. 42Matters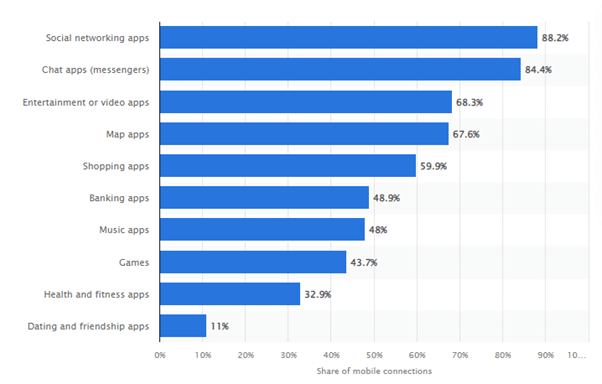 What is an app?
Before we continue let's quickly get on the same page as to our understanding of what an app is. An app is short for an application that runs on a mobile, laptop, tablet, or another device that gives your audience the ability to interact with a service or product easily to solve a unique problem.
The graph above outlines the volume of apps in each category. If you operate in a B2B environment building an app could well be very advantageous as the competition would be negligible if you get the components right.
In this article, we are not touching on specific apps for B2B or for consumers but rather focusing on how to integrate the priceless in-person interaction that trade shows, exhibitions, and shows provide to either test your app or to launch it.
Determine the goals of your app
Apps are expensive to develop and take quite some time. Prior to starting the journey sit down with your team to determine the goals of your app. Will it be a standalone app only to be used in conjunction with your UCON custom booth for trade shows or do you want to use an exhibition to launch the app to drive sales and customer engagement through experiential marketing? I believe an app is an extension of experiential marketing in a show environment but with the added benefit of the face-to-face interaction extending through the app prior to and beyond the exhibition booth days.
The overarching goal of your app should be:
What problem will it solve for the user?
There are a few key components to bear in mind when creating a successful app:
Great User Interface

The ease of use is crucial as well as the user flow for the user
Performance and Speed

A rule of thumb for great performance is a 5 second loading time that remains stable throughout the usage. If your envisaged app is complicated with loads of data that may take a bit longer to load keep your customer interested by displaying a loading screen that informs them of what is happening, which is an opportunity to be entertaining to keep them engaged. Another point to keep in mind is whether your app will work offline i.e., not linked to WIFI.
Customer Service

So many companies think of customer service as an add-on that they must tolerate. This area is vital to the success of any company if your processes and instructions to staff are focused on truly helping your customer. Listen to their comments, fix bugs, add features, etc. Most companies don't acknowledge input from their customers who have taken the time out to make comments. This shows they have a vested interest in your product. Add a quick list of first names of the top 20 people who mentioned the issue and followed up or gave their opinion on how to fix the issue. This will garner greater trust in not just your app but also in your business.
Compatibility

Do consider that you will need to develop your app in two languages being a phone app for Android as well as Swift which is Apple's IOS for apps.
There is a process of application that includes set guidelines etc for each of the different operating systems as well as stores such as Google Play.
These components need to come together to provide users with a unique value, fantastic usability, and great performance app while at the same time achieving your goal of driving sales conversions.
What type of apps would work best at a Tradeshow?
According to Event Manager Blog, 17 percent of event tech providers only offer their app in conjunction with their virtual event platform. In other words, their mobile event app is not available as a standalone service. What an opportunity!
How to use an app at a trade show?
If your business realises greater value from trade shows and exhibitions than any other form of marketing, investing in an app purely for shows is a natural progression. Do think about how your app and booth design can integrate to maximize your customer experience thereby driving greater interaction and sales. For example, does the visitor to your trade show booth need to undertake an action with an interactive component on the booth and then interact with the app or vice versa?
To illustrate I'm going to use the example of The Piccolo Museo del Diario (image above) in Italy which is a museum sharing the history of Italy and Italian life through the writing of common people's diaries.
In a museum setting, they have the advantage of physical space that draws you physically in whilst reading people's stories. In an exhibition environment, one needs to get to the point much more quickly. That's where an app can be extremely useful.

At the start of your app, you may want your audience to input the year of their birth. This will lead them to a specific set of diaries written by a person who was the same age as they currently are sharing their deepest secrets or the most prosaic of memories. You can include background to the person who lived in the 1400s and what their town or city was like at that time to provide context for the user to envisage themselves in that time and what they could have experienced if they had lived then.
At the same time, your booth can have snippets of diaries that closely match their interests, or one can encourage visitors to write a page of a diary sharing their previous day or perhaps a momentous occasion (anonymously of course).
After they've done the desired action at the booth think about how to use the app to continue the conversation.
What needs to be included in your app?
We all use software differently which also needs to be considered when building your app. You can make some processes shorter and for those who are really engaged, they perhaps could go deeper and explore other areas of the app that takes longer.
Engage as many of the senses as possible to deepen the experience with your app. Legendary author Dale Carnegie said "Appeal to the buyer's senses – sight, sound, touch, taste, and smell".
"When dealing with people, let us remember we are not dealing with creatures of logic. We are dealing with creatures of emotion, creatures bristling with prejudices and motivated by pride and vanity." Dale Carnegie
Design to develop the look and feel that compliments the goals for your app. Use the Fat F principle that neuromarketing research has shown to be successful. Harvard Business Review explains neuromarketing and some of the principles.
We tend to overcomplicate things. Keeping it simple and easy to use will be a major benefit and make it more likely that they will talk about your app to others.
A holistic approach to integrating the custom exhibition stand and the app. What actions can you do on the app that the stand will fully or partially answer and vice versa?
Train your stand staff well not only on the custom stand itself but also the app.
How would you advertise/distribute the app before the trade show?
The approach can be broken down into two:
During design
Post design
During Design
Undertaking consumer testing to ensure usability, speed, ease of design, etc. which can take months that you can use to your advantage by including a portion of your database:
You may be asking why a portion. In any database, there are people who you have never really connected with beyond sending info but have had no response. This may be a way to win them over.
You could include a small pool of your target audience at a later stage.
Post Design
Use a neuromarketing email campaign to show a countdown and updates of development with the due date of the first date of an exhibition.
All your staff should have the app on their phones etc. so they can do demonstrations on how it works.
Digital marketing campaign 3 to 4 months prior.
Update your website accordingly.
The above assumes that your app has been accepted by both Apple and Google Play for distribution and downloading.
Trade Show Days
The desired effect would be to see people leaving your booth walking with their heads down mobile phones clutched in their hands engaging with your app because they found your custom stand and the app together engaging, informative and useful that they can't wait to share with colleagues or friends.
How to follow up on New Connections after the Trade Show
Using inbuilt app metrics in your app will ensure you understand users' behaviour through tracking the data to provide insights and measure the success of your app as well as identifying areas of improvement.
The analytics will allow you to track user engagement, downloads as well as retention numbers. With this valuable insight, your marketing strategy can be updated to maximize your results.
Your app has the potential of becoming a valuable asset for the company, ensure that you copyright the name and intellectual property components. Australia does not have a registration organisation for this function. If your customer base is mostly outside of Australia it would be wise to register the copyright in the US.
The investment in your app has the potential to be a game changer for your organisation. It is worth protecting it and ensuring its success through regular updates and a successful marketing campaign that will continue to pay dividends for years to come.