Trade shows and exhibitions are a great way to meet prospective clients and generate leads.
They provide amazing opportunities to present your products/services and attract attention from the media, clients, and even new investors.
In this guide, we'll share strategies to improve your ROI at the next trade show you attend.
Define Your Goals
What is your ultimate goal for attending a trade show or exhibition?
Do you want to:
Launch and Demo a new Product
Generate new Leads
Attract media Attention and Coverage
Ask yourself, What is a positive outcome for attending this trade show?. This will help to define your success, and keep everything moving towards that specific goal. With a goal, your planning has direction and it's easier to design and build a booth and a presence that achieves the desired result.
For example: if lead generation is your primary goal, you need the correct touchpoints.
"A touchpoint is a marketing word that describes any event where an attendee interacts with the brand."
A purposeful touch point might be a clipboard that asks an attendee for their contact information. The more sci-fi looking trade show booths have tablets and touch screens because it gets people more excited.
There are limitless options to how you can exhibit, having a clear goal helps to separate good implementation from bad.
If your goal is to collect information and do product research, feedback is valuable to you – Often booths use tablets and screens to help run user surveys, which frees up their sales team to talk to the warmest leads.
So, defining your goal is critical, as it determines which approach will be effective for your business.
Showcase Your Products
If you're launching a new product, your goal might be to showcase your product and communicate its features to the industry. It makes sense to showcase a product that grabs a lot of attention. When Roombas first came out, people would watch them not fall off the tables in the shopping centers for hours. If it's something they've never seen before. Why not show it to them.
You can try to anticipate your audience's questions and answer them with a demonstration. A great way of doing this is with a multimedia presentation. The best thing about multimedia presentations is that they can use sounds, videos, diagrams, and infographics to explain difficult concepts in an exciting and easy way. They are a great way of showing what your product can do.
We've also seen and built booths that have multiple product demos stations to target customers in different stages of their buyer's journey. It's a great way of showcasing the individual benefits of a single product. 
Promote Your Brand
If your a new company, or you're entering a new market or location, your goal might be to promote your brand. Visitors to your exhibition stand need to instantly know who you are and what you do. Getting this right can be as simple as adding your company name and slogan on the banner over your exhibition booth, however, clever design and getting creative can help you stand out in a busy exhibition.
When promoting your brand at more competitive events or in competitive industries, you might need to invest a little more money, to make an impact and network with industry leaders.
Generate Leads
If your goal is to generate leads, both your exhibition stand and sales team need to grab passerby's attention. Occasionally people familiar with your brand will seek you out.
Once they are in the stand, it becomes a question of how to turn them into a lead?
Often companies will prepare lead request cards before the event and make sure they are readily available onsite. If you can draw them in then hopefully, you can solicit their contact info.
There are a million different ways to collect contact information. And finding the best approach that makes sense for your brand can be challenging. We've seen businesses create Follow up Guides, to answer "what happens next?" The advantage of this is that no one leaves the booth without understanding how to buy or further qualify themselves for the team to follow up on.

We definitely recommend introducing tech into your lead generation strategy. Digital surveys are far easier than pen and paper. They are a faster and more convenient way of collecting contact information. When promoting your brand at more competitive events or in competitive industries, you might need to invest a little more money, to make an impact and network with industry leaders.
Select the Right Strategy
Your strategy determines how well you perform at a trade show or exhibition. So, getting the right strategy is critical. The following points can help you select the right strategy that aligns with the the overall goal we discussed in the last section.
Test the Waters
Consider testing the waters, before you go all-in on an new show. At first, you might not have enough data to know what works and what doesn't. Any trade show veteran will tell you, you need to adopt a test-and-learn approach. This way, you avoid over-committing to a show that might turn out to be a flop.
As you attend shows, train your team, and refine your pitches, you'll discover what works and what doesn't.
We are not saying not to show up and look good but – what if you get there and your research was wrong and it's a room full of people who are not interested in your product? Or some other detail was overlooked.
The easiest way to find out is to go to the event and scope it out first. The same applies to events in new regions and ones you've never been to before.
The reverse of this logic is that you should invest heavily in shows that provide the highest ROI. It's a simple matter of risk exposure. You can filter out the events that do not bring desired outcomes, but this can only be achieved through actual testing.
Consistent Long-Term Presence
Once you know which shows are the most important, a consistent and long term presence should be a part of your strategy.
It's common for businesses to decide on 2 – 5 shows that they attend every year, no matter what.
Another advantage of a consistent long term presence is you get a feel for your space, and you can settle on a stand that works.
A stand design you can build once and use 10 times, is what you want to ideally achieve to maximize ROI.
Make a Statement
Maybe your strategy is to network with industry leaders and establish yourself as a force to be reckoned with. If that's the case you can forget about your budget. In an industry like banking, leads are the last thing on anyone's mind. It's all about making a statement. Partially, because their competitors are at the event trying to do the exact same thing. If this is your goal, you can forget about efficiency and ROIs and just focus on blowing minds and kicking the wow factor up to 11. In this situation, it is a no-brainer to go with a fully custom exhibition booth to impress your audience.
Done right, we've seen these approaches launch brands to the top of their field from relative obscurity, and cause a ripple effect that reaches every corner of the space they operate in. The thing about going big and bold is that it's not just money on the line – a small mistake will cost you your reputation. 
Prepare
Allocate Budget
Budgeting is one of the most essential parts of the trade show game. You will be able to budget more accurately once your strategy is developed and you have relevant data at your disposal. Start at the top level and set an annual budget for all shows of interest. Then break that figure down into separate budgets for different shows and then finally to single expenses incurred at each show, which can be presented like this:
The distribution will be different every time, depending on the chosen strategy and actual goals. 30-30-30-10 is a good starting point.
Arrange your Space
One of the key elements that defines your success at a show is the space that you manage to get. We advise you to start looking for a good spot as early as possible as it will determine your booth's performance:
Strategic Positioning among Key Competitors
Access to Higher Traffic
Better Visibility
As well as some bonuses:
Lower Rates
More Time to Prepare
Not Letting Competitors Take it
Select the Right Stand Builder
The right stand builder will understand your needs and requirements and offer a range of options to suit different budgets. The right stand builder can bring the design you want to life. Successful trade shows depend on the careful planning and preparation that goes into your exhibition stand – a well-designed, thoughtfully planned space means the difference between success and failure.
Do something different, be adventurous with your space design – but stick to your branding guidelines so you are recognizable.
Get Promotional Materials
To make a lasting impression on your visitors, get promotional materials like badges, brochures, giveaways, etc. – these can be customized to match your branding, giving visitors something tangible they will keep and use.
Always have some business cards on hand as well.
Assemble the Right Team
The right sales team will be able to engage with leads and prospects in an interesting way that makes them take notice of what you're doing, while also highlighting the value you offer. You can have a great exhibition stand design but if your staff aren't engaging visitors then it's likely they won't convert into customers – which defeats the whole purpose of the event. A good way to make sure your sales team are up to scratch is by running a pre-event training session with them – this can also be used as an opportunity for you to assess staff performance and identify any weak points.
Execute
Exhibit
The time has come to get to your trade show and harvest results. When you arrive, be sure to get a map of the show so that you can plan your route and know where all the different stands are. Pre-planning is key here as it will save time when trying to find new leads on-site.
It is worth noting that registration desks are usually at the entrance of any trade show, so check out their opening times and plan accordingly.
You can also download apps for your smartphone to help you find what you're looking for – or someone else might have done it already!
Don't forget to bring a business card with you while walking around the exhibition in case someone wants to speak with you."
Measure Your Results
After your exhibition stand has been dismantled and you have had time to reflect on what went well (and not so well), track how successful the trade show was from start to finish – this, depending on your goals, includes measuring data like:
Based on these Numbers you will be able to calculate relevant Metrics and make Strategic decisions which Exhibitions are more attractive in terms of ROI and adjust your annual budgets.
Analyze, Learn, Repeat
Often it's not only the Event and its attendees that defines how well the Trade Show went for your Business, but also internal factors such as:
Sales Team
Booth Design
Product Presentation
Brand Awareness
To make the most of your B2B event, all these aspects should be thoroughly analysed and optimised on a regular basis. Remember, the train's speed is defined by the slowest carriage. Look out for flaws and act to correct them immediately to increase your overall performance and the ROI of your trade show presence.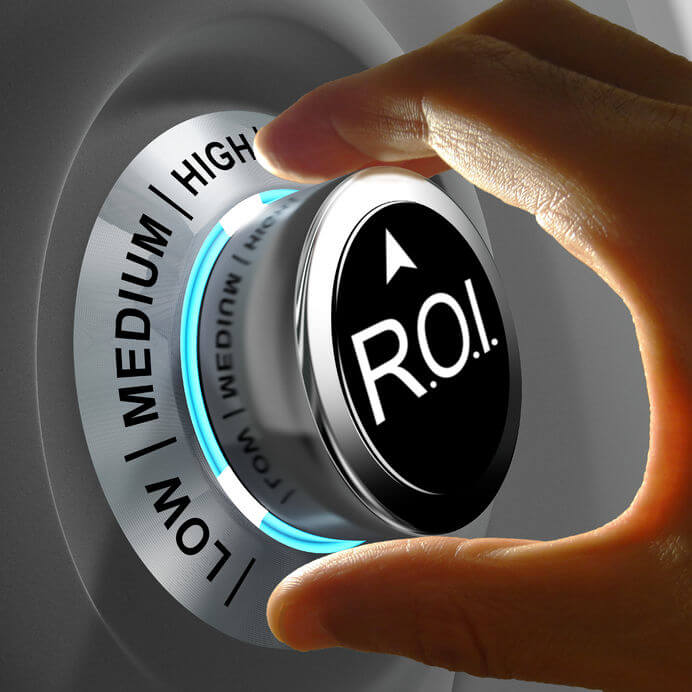 Conclusion
In conclusion, trade shows are an excellent way to engage with prospects and customers.
To get the results you deserve ensure you have a carefully planned stand design, promotional materials that match your branding, a well-trained sales team who know how to interact with leads – all of these things will help you generate the right results for your company at trade shows.
If you need help building a custom exhibition stand that will steal the show at any Australian exhibition contact UCON Exhibitions today. We are Sydney's leading event stand builders and we'd be happy to help you build a trade show stand that will be the envy of all your competitors.