One of our top exhibition stand design tips is prioritising the important goals you want to achieve out of your event, the are so many designs that can be proposed if the brief is vague. If you (the exhibitor) can figure out your top 3-5 goals, then designs can be crafted and defined to suit those targets and you won't need to go back and forth wondering if you need this or need that. It will then be a much more streamlined and productive process; you can then spend your valuable time with the more important things such as planning for what happens when a customer approaches your booth, what is your plan to convert the lead into a sale?
Start Early
When we talk about starting early, we are referring to getting in contact with a stand builder as soon as you have booked in your booth location. Why? Because that is the starting framework of your exhibition stand design, your booth could range from 1 side open to 4 sides open and based on each configuration it will drive the layout of your booth.
If you have the chance, it is worthwhile to sit down and figure out what your key goals are (keep to a maximum of 5 points) – could it be increased brand awareness? Or enhanced product display? Or attracting as many people to your booth as possible? Depending on what is more important to you, it will drive the design, certain tricks can be done to achieve certain requests and it is critical you communicate this even before the design starts.
Starting early is one of our exhibition stand design tips because also gives you a chance to sleep on the design and if you leave it too late, there may not enough time to sufficiently execute the design you are after, then it might have to be downgraded to something simpler and quicker. The more complex a design is, the more time it takes to engineer and build it – therefore, as a rule of thumb you should make sure you are in contact with a stand builder no later than the 3-4 month mark before your event dates. If there is something specific that you are after such as certain materials or finishes or complex components, you may need to allow even more time.
Invest Into Raised Flooring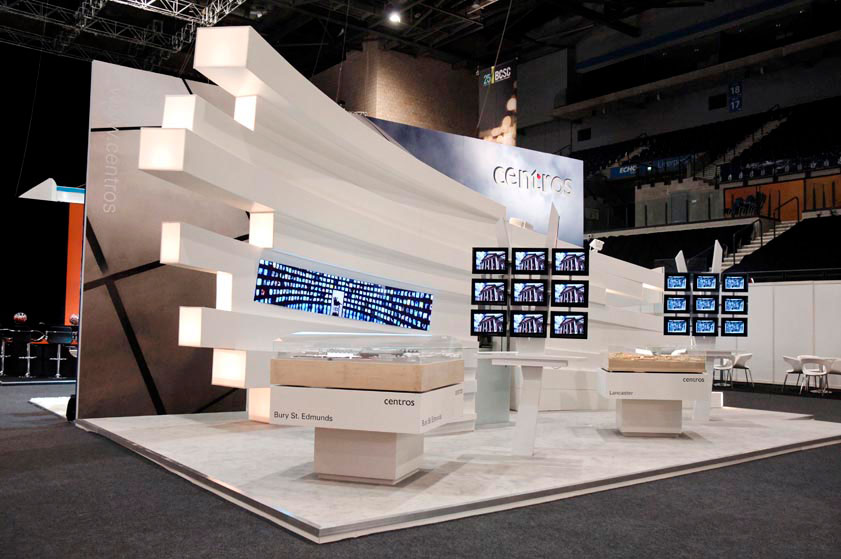 Typically, you have two main types of flooring to choose from, either carpet tiles which go directly on the venue concrete flooring, or upgrade to raised flooring and this gives your overall booth a much more premium and professional appearance with the added benefit of being able to hide all your cabling under the floor. 
Raised flooring usually comes in white with aluminium edge ramp that surrounds the sides to avoid any trip hazards, other colours are available but may cost more. Because of the professional look of raised flooring, it may attract more quality visitors as it will be more apparent that you are taking this event seriously and not just after something quick and cheap, it subliminally gives the impression that your business is here to stay.
3. Make Custom Displays For Hero Products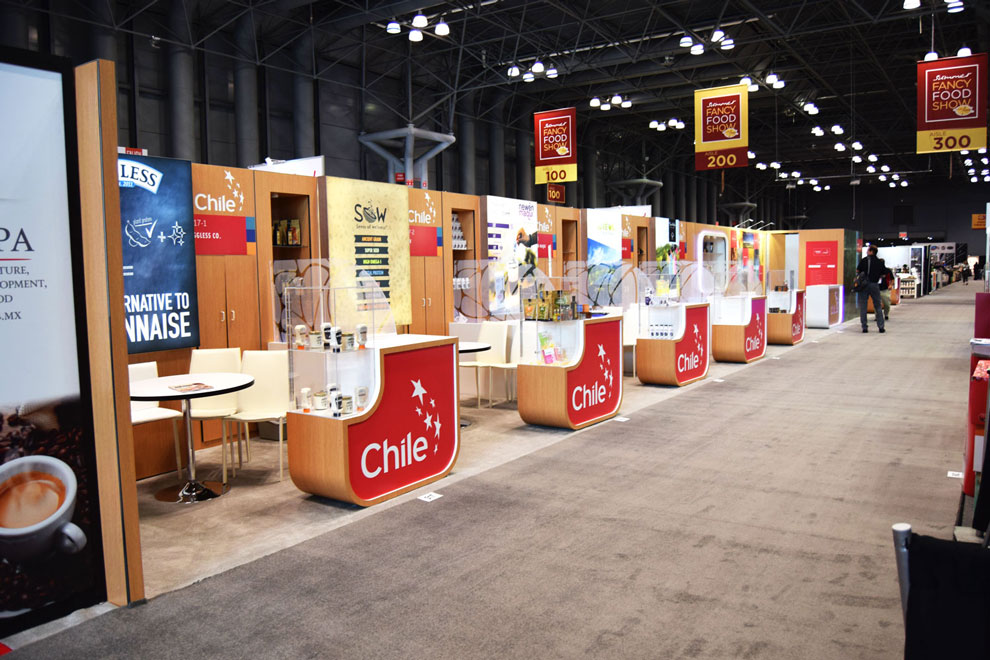 This is one of our key exhibition design tips, if there is the budget to do so, it would be highly recommended to get a custom display made to purposefully display your hero products. Showing your hero products could be one of the main reasons why you are exhibiting, so why not invest in something that best shows your product? Special features can include integrated LED lighting (can even make it flash for extra effect), you could also shape the display match the shape of your product to emphasis its form (if that it's a key feature) or adding mechanical components to really highlight how your product works (interactive features are a great way to get your customers involved). Each custom product display can be tailored to suit your product and unique displays have a higher percentage to attracting quality customers to your stand.
Highlight Your Brand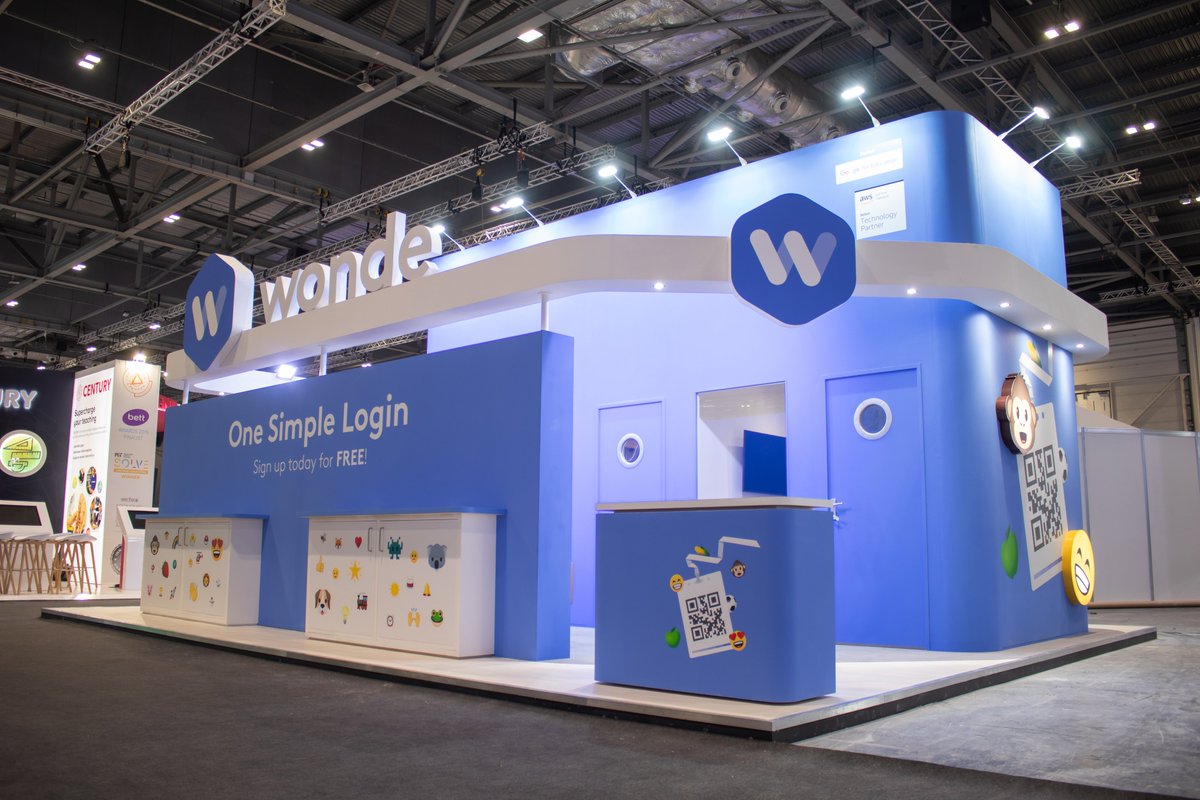 Branding plays a strong role in creating a memorable experience and having a custom booth gives you the opportunity to represent your branding in a very effective way. You can have a look at the different type of signage options, custom architectural elements or colour usage to name a few ideas on how to elevate your branding into your booth.
Signage
The most cost-efficient signage comes in the form of VCL (Vinyl Cut Lettering) which is essentially a sticker of your logo and can range to illuminated signage which has integrated LEDs increase its visual features. You can also play with surface area of your walls by fully covering it in vinyl wrap with your specific branding material, this is very visually effective if you have attractive artwork you could use.
Architecture
Creating eye catching architectural forms is a very effective way to use the open spaces of your booth, the larger the structure the more impact it has since it can be seen further away. The architectural components of your booth can be specifically designed to display your products (such as integrated shelving in your walls) or shaped with angles/curves to create a much more interesting form to attract people to your booth. You will be positioned and compared against many, many booths in the one venue, so using architecture is the key to making yourself stand out from the crowd.
Colours
Integrating your brand colours is another very effective way to give your booth a consistent and professional aesthetic. From a far it will look like you have taken the time to align with your branding with your booth, and this will impress your visitors. Colours can be implemented on walls as well as flooring, you can also integrate interesting shapes to further increase the attractiveness of the booth.
5. Make The Space Functional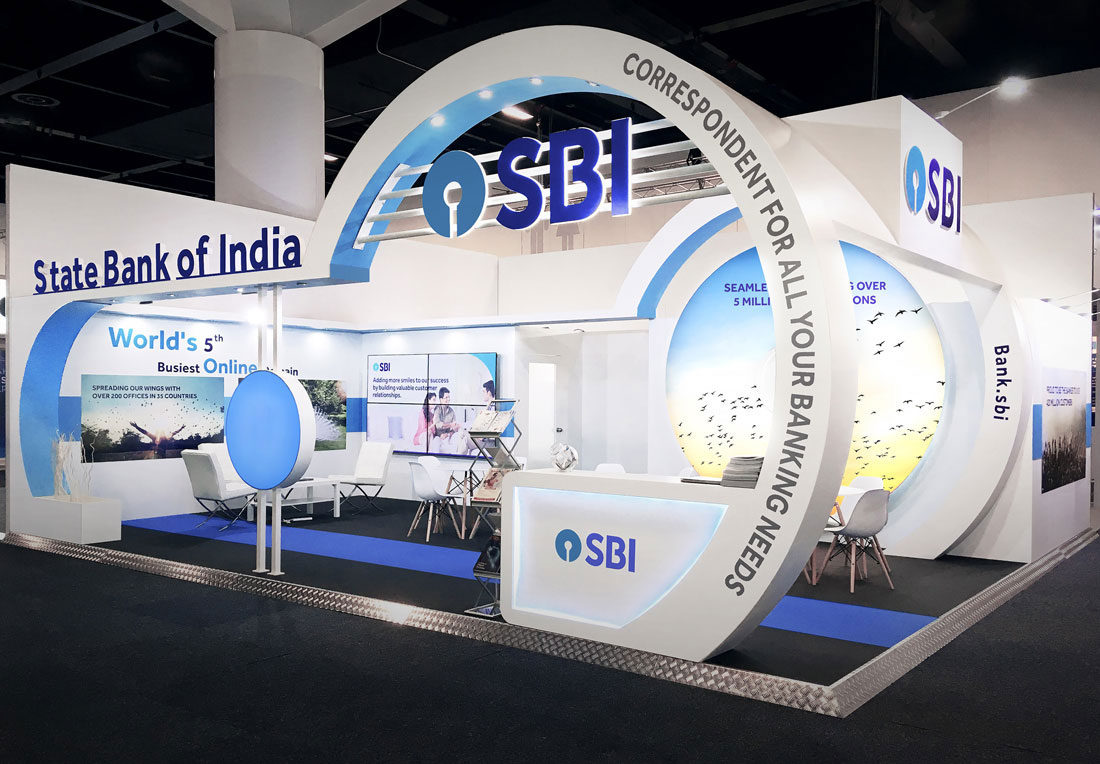 To make the most out of your booth, it is useful to assign certain zones with a certain function as this will help manage different stages of your sales strategy. For example, you can have meeting rooms for holding private meetings, storage rooms to store any unnecessary items to keep your booth clean and tidy, then also you can have a reception area for visitors first point of contact.
Meeting Rooms
Depending on the sensitivity of the business you need to discuss with clients, it would be beneficial to include private meeting rooms as this gives your client peace of mind that they can speak in confidence without anyone else ease dropping. Having a meeting room also creates an environment where your client understands that they now have your full attention and are prioritized at that moment to discuss business.
Storage Room
Adding a storage room is another one of our useful exhibition stand design tips because if you have a lot of products to display, then you may have quite a few empty boxes left over – you can use a storage room to store these. The advantage of having a storage room is that you have quick access to your empty storage boxes, so a couple of hours before the event ends you could choose to start packing things back into your boxes. Otherwise, you would have to pay for additional storage, and these will get taken away to a storage area then returned to you only when all visitors have left the event (when bump out begins) – which means you could be stuck there for an hour or more waiting for your storage items to return to you so you can start packing up.
Reception Area
Having a reception area is the best way to control or manage visitors coming into your booth, they won't need to look around and wonder who they can approach. To make the process much smoother, it would be beneficial to have an appointed receptionist which means someone who will be the first point of contact that can determine what the customer wants and point them in the right direction of who to speak to or simple to provide pamphlets which answers their questions. It would also be strategic to integrate some sort of report system so you can track the number and type of visitors that walk into your booth – that way you'll have statistics at the end of the event to evaluate how it all went.
6. Create A Cozy Atmosphere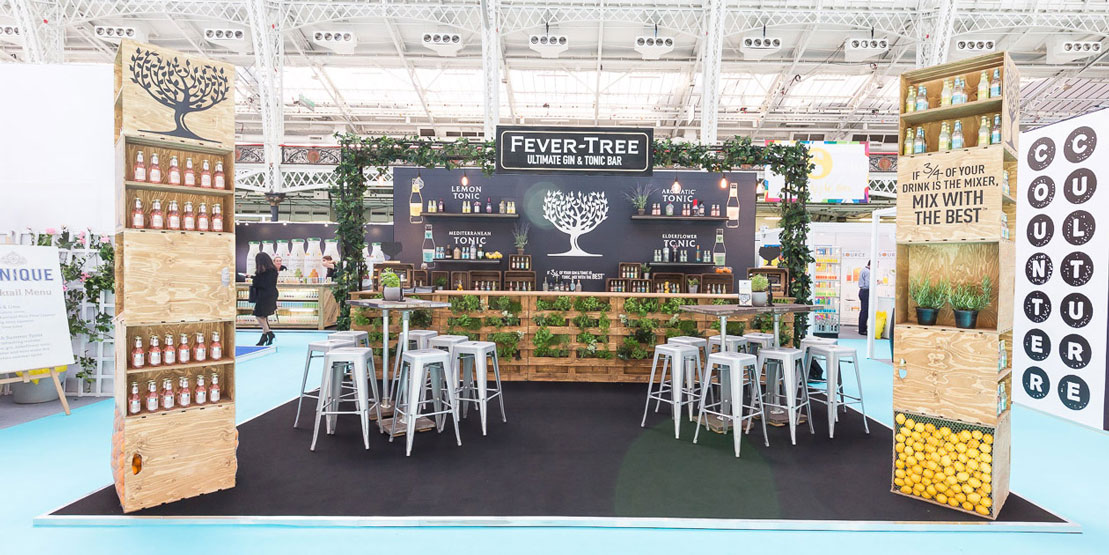 Adding an environment helps people relate to it and boosts the performance of your expo stand, for example if it is a café type of environment it could help trigger memories of when they were last at a venue that looked like the setting you have created and gives them better motivation to approach your booth. If your sales strategy is based off having casual conversations in a relaxed environment, then it would make sense to either allocate a zone or have the whole booth designed with this in mind. There are certain things you can add such as greenery, furniture, décor, and lighting.
Greenery
Adding plants into your booth instantly gives your booth some life, whether it is artificial plants or live plants – it effortlessly softens the hard edges of your booth and implies a sense of nature which unlocks that part of our brain which makes you want to relax. The positioning of greenery will be the key, plants that sit in a planter box that is integrated into the booth would look much better than standalone plant pots scattered throughout the booth. You could also look at creating a specific zone rather than "green up" the whole booth, this visual contrast will help identify and emphasis your cozy zone much more effectively.
Furniture
Integrating furniture into your booth will help create a space where people can relate to, whether it is café setting or a workspace setting – furniture has a powerful functional purpose and is somewhat essential to every booth. A lot of the time visitors are at the event for 4-5 hours and that's a lot of time on their feet, offering a seat to them can work wonders and gives them a chance to relax and converse rather than having a painful reminder their feet hurt in the back of their mind.
Decor
The idea with décor is to create an environment where people can visualise how your product will look in a real-life scenario, this especially important if your product is designed to go in homes. For example, if you are selling kitchen benchtops you could add plates/bowls and cutlery – this simple addition helps visitors understand how your product can be utilized. Or if you are selling bedside tables, you could include a nightlight or lamp with a phone charging etc. It is important that décor can easily be overdone, therefore we suggest being very selective of what you choose and try not to let the décor distract visitors from the actual product you are selling.
Lighting
You can use lighting for creating a cozy atmosphere by utilising the different colour temperatures they can output, so if you are looking to create a lounge type of setting you would want the light to be "warm" this ranges from 2700-3300K. The next thing you could choose is the type of the light, these can be armlights that are mounted onto walls or pendant lights that suspend from above. Then you could also look into the finishing of lights, it could be something more modern like stainless steel or something that is more rustic like copper – it will depend on your theme, but colour temperature and lighting type are key features to explore that are effective with creating certain atmospheres.
7. Deliver Your Message
As one of our important exhibition stand design tips to consider is to make sure you convey your message clearly. What do you want customers to know when they see your booth? With some many other booths that are also exhibiting in the same venue, it is critical to clearly identify what your hero product is or what your main service is. The are multiple ways you can achieve this information delivery, but in particular, we would like to discuss information delivery through the means of TVs, Touchscreens, and Ipads – we also have a guide on advanced audio visual for exhibitions.
TVs
There are a couple of ways you can use TVs to your advantage, one way is the positioning – if you have a few TVs you can play with the positioning of it such as staggering them to create visual impact. Using TVs is also very effective when it is difficult to convey your message through static imagery, you could have videos on loop and if one screen is not large enough you can also look into combining 4 screens together. Moving images will always capture more attention than static images, therefore you should use that to your advantage.
Touchscreens
Another effective way to deliver your message is through touchscreens – the advantage of these is that the customer gets to directly interact with the screen which means they are creating their own personal experience, as well as giving you the opportunity to connect with your client while they test and learn the features of your product. Even if your product does not specifically require a touchscreen, you can also use this to create a game out of it – this creates a fun activity and visitors will be attracted to join.    
iPads
Ipads are a smaller version of a full-size touchscreen and could be the better option if budget is a concern, it won't have the same impact as a 55inch touchscreen, but due to the cost effectiveness of this, you could hire more units which allows multiple people to use it at the same time and not require to queue up. Make the most out of technology as you may not always have available staff to meet and greet customers, so having these Ipads ready to go and packed with information can make a big difference.
8. Get Noticed
Remember that you are not the only exhibitor, and every other exhibitor is also trying to do the same thing and that is to get noticed. It can get difficult when everyone does the same thing, therefore below are some exhibition stand design tips to help you up your game.
Rig Up Banner
Hanging banners are great for creating a presence in the air and visually helps complete a booth – visitors can see you from afar and it gives your booth additional height. Yes, it does add quite a hefty cost to your booth, but if you are serious about getting noticed and cementing your position in the industry then hanging banners will help with that.
Include Props
There are various props you can add to your booth, it can be standard props which is readily available for hire, or you could step it up and get a custom prop made purposely to enhance the display of your products or brand. Props are generally better the bigger they are because this will catch the attention of people walking past and additional to this you could also add lighting to highlight special features etc.
Giveaways
People are drawn to free stuff, make it memorable and create a game out of it. You can choose to give them a freebie regardless of how they perform, but they get the chance to win something even bigger if they win – this great for interacting with customers and creating an experience for them to remember. At the end of the day, visitors would have walked into many booths and would have received many giftbags so it is important to make sure your gifts are branded – this is to remind them that they visited your booth and will hopefully jolt their memory when they require a service or product like yours.
Conclusion
After reviewing our exhibition stand design tips, you can see how there are so many things you can incorporate into your stand design, but at the end of the day it is about selecting the most important features that will best represent your product or service and to make it a memorable experience. It can be very easy to over do it by adding too many things which make it very difficult for customers to understand what your main purpose is at an exhibition, therefore why not take a quick minute to reach out to experts in the industry? UCON Exhibitions will be able to assist you will all your exhibition needs; they have been in the industry for over 5 years so no doubt they know what they're doing. Remember, do not leave it till the last minute!