A custom exhibition stand is a combination of many components and based on the detail of brief provided, there can be countless design outcomes that achieve the different results – therefore it is vital to prioritize hierarchy of important details to effectively represent your product/service.
You might be wondering, so how much are we talking about here? In short, you will be looking at anywhere between $350 – $2000 per square metre all up, depending on Scale, Complexity and Your Goals.
On average, the price breakdown ratio are as follows:
Design [<5% of total cost]
Exhibition Stand Components [appx 50%-80% of total cost]
Onsite Services [appx 10%-40% of total cost]
Other [appx 10% of total cost]
There are plenty of reasons for a custom expo booth, so don't be afraid to explore and see what can be done with your booth.
Design
[<5% of total cost]
The design stage of a custom exhibition stand is critical to get right – this is how your booth will look and operate once it is built, therefore it is very important to get in early and allow sufficient time to plan everything out to ensure the final scheme is what will give you the best outcome.
Conceptual Stand Design
This is a design proposal which includes 3D rendered imagery as an artist's impression for you visualise what your final booth could look like.
Free (by UCON Exhibitions)
Production Drawings for Approvals
Once the design is finalized, all components are drawn up with all specifications such as dimensions, finishes with any important fabrication details for client approval.
Free (by UCON Exhibitions)
Graphic Design
Having a well-executed graphic design for your booth makes a huge difference in visual impact, the bigger the graphic area, the more effective it is to grab attention.
Pricing on Application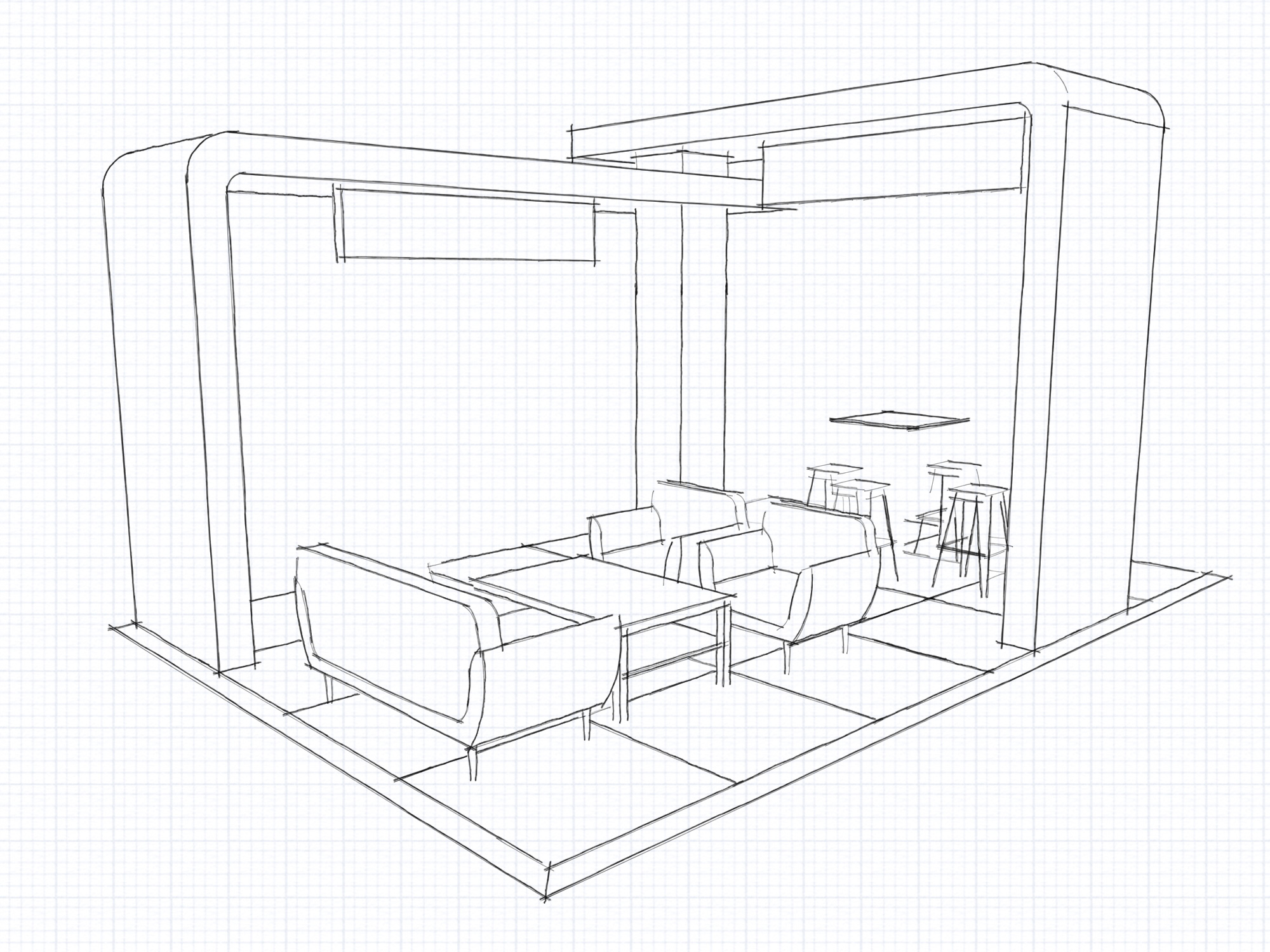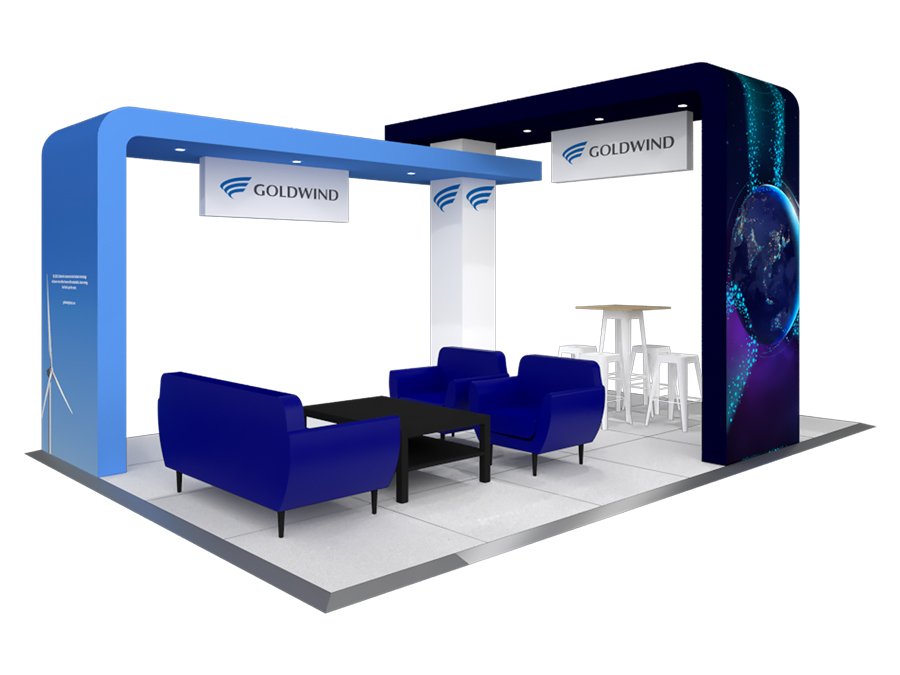 Exhibition Stand Components
[appx 50%-80% of total cost]
Here is a list of commonly used components that make up a custom booth, this will give you a holistic overview of what can be integrated into your booth. Stand components will cover most of the exhibition stand costs and there are lots of options, so we broken them down and included indicative costs to give you a head start for budgeting purposes.
The intention of the list below is to give you an understanding of where the ratio of costs go, we highly encourage you to speak with your builder to discuss your budgetary requirements as there are several things that can be adjusted to reduce costs such as hired items rather than one off purchases or using different stand materials and finishes.
Flooring
There are several flooring options to choose from, the most cost-efficient being carpet tiles, but under certain scenarios you might be better off getting raised flooring as functionally this helps conceal electrical cables and plumbing pipes and ultimately gives your booth an overall more professional finish.
Carpet
This can come in the form of tiles (as the most cost efficient) and can also come in rolls for a more premium finish.
Pricing from appx $25 per square metre.
Vinyl
Comes in rolls with a smooth finish, printed textures to mimic various materials such as timber or concrete etc.
Pricing from appx $35 per square metre.
Raised
Can come with either a timber or carpet finish with edge ramps attached to the open sides.
Pricing from appx $60 per square metre.
Custom Flooring
This is where you mix different flooring options to create shapes which gets integrated into the architecture to the rest of the stand, potentially adding lighting also.
Pricing from appx $100 per square metre.
Structure
Structure is identified as the bulk of your expo stand which sit above the flooring, these are the architectural elements that can be used for integrating graphics, TVs, lighting and product display etc.
These elements can come in all types of shapes and finishes, the trick here is to purposely integrate this with your branded and/or products to most efficiently represent your company.
Walls
Depending on your booth location, walls are required for wherever the is another exhibitor is situated right next to you.
Pricing from appx $250 per wall.
Reception Counters
These have multifunctional purposes as it acts as the first point of contact, lockable cabinets to store your belongings and a prime location for branding.
Pricing from appx $500 per cabinet.
Product Displays
If there is a certain product you want to highlight, these will do the job – made custom to order to showcase your product as professionally as possible.
Pricing from appx $500 per product display.
Custom Architecture
The possibilities are endless when custom elements are required, an example could be a layered wall feature etc.
Pricing from appx $1000 per custom element.
Signage
There are multiple methods for showcasing your company branding and this should not be taken lightly. If signage is consistently integrated into your booth effectively, it instantly ensures a professional first impression for anyone new that has not come across your business before.
Vinyl Decals
These are logo cut outs that can be attached to any surface, it is the most cost-efficient method to display your company logo.
Pricing from appx $100 per square metre.
Vinyl Wraps
If you have large empty areas to cover in branding and graphics, this is your best bet – these come in printed rolls and can cover areas of any size.
Pricing from appx $100 per square metre.
Illuminated Logos
Step up your game by upgrading your signage with illumination to really capture the attention of the crowds.
Pricing from appx $1500 per sign.
Hanging Banner
Having signage suspended in the air gives your booth an additional layer of exposure from a distance with a wide variety of hanging banners to choose from.
Pricing from appx $1000 per hanging banner.
Custom Signage
Stand out from the crowd with a fully custom sign created from scratch, these can come in the form of life-sized logos or integrated into part of the architecture of your trade show booth.
Pricing from appx $1,000 per sign.
Audio Visual​
Depending on the type of product or service your company is promoting, adding video content into your booth can be invaluable – this is a quick strategy to easily communicate your business visually to anyone that passes by your stand.
There are multiple audio visual equipment hire for exhibitions, each with their own advantages and cost implications.
TV Screens
A simple way to display videos is to use TV screens, these can be either wall mounted or free standing and comes in varying sizes.
Pricing from appx $400 per TV for hire.
LED Video Walls
These come in modular panels and can be utilized into any size, with different pixel sizes that determines its quality output.
Pricing from appx $2000 for hire.
Touchscreens
To create interaction with your clients, adding a touchscreen to your booth will achieve this with ease.
Pricing from appx $1000 for hire.
Ipads/Laptops etc
Sometimes you are travelling remotely to an expo, relieve the stress by hiring ipads/laptops locally rather than purchasing or carrying your own.
Pricing from appx $300 for hire.
Holographic Fans
Are a unique way to draw attention to your booth, this is a fast-spinning fan made of LEDs and displays floating images.
Pricing from appx $300 for hire.
Custom Audio Visual
Take it to the next level by creating a custom LED wall which is curved and shaped to a special structure.
Pricing on application.
Lighting
Adding lighting is an integral component to complete the visual effectiveness of your stand and there are several great ways to make this happen. There are options to either highlight special features of your booth such as your logo and products, then there are ways to illuminate your stand as a whole – lighting is always a great method used to identify hierarchy which helps guide what you want your visitors to see first.
Standalone
These lights come in the form of arm lights, pendant lights and floodlights which operate on their own with connection to power.
Pricing from appx $75 per light.
Integrated into Architecture
To give your booth a more professional finish, you could integrate downlights and LED strip lights into your architectural elements.
Pricing from appx $30 per downlight.
Rigged
If you would like to increase the overall brightness of your whole booth, one way to do this is to have several suspended floodlights from above.
Pricing from appx $300 per light + rigged truss structure.
Other
Additional to the common components stated above, there are other elements to consider including into your booth to complete its functionality and visual aesthetics.  
Furniture
Chairs, tables, lounge seats, coffee tables, meeting tables, bar tables etc.
Pricing from appx $75 for hire.
Plants
These can come in a form of individual pot plants or to sit inside linear planter boxes.
Pricing from appx $200 for hire.
Appliances
Coffee machine, bar fridge, cooktops etc.
Pricing from appx $200 for hire.
Storage Crates
If you have plans to reuse your booth several times within a year it will be worth to consider making a storage crate for travelling interstate etc.
Pricing from appx $1000 per crate.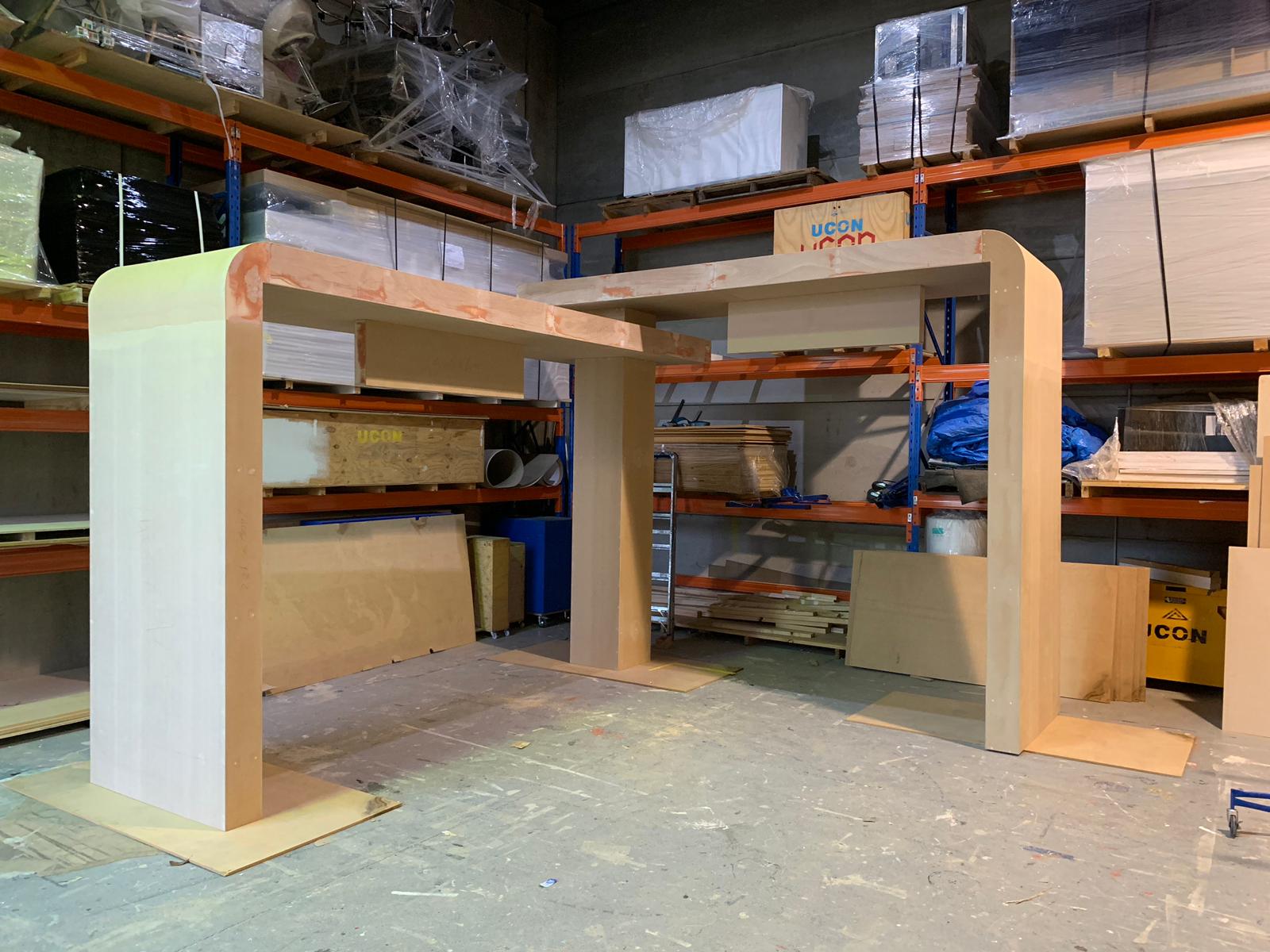 Onsite Services
[appx 10%-40% of total cost]
There are two main components to do with onsite services and these are split into venue services which are provided by the venue and then there are onsite works which are provided by your stand builder which are both performed onsite.
Venue Services​
There are several services which is best arranged with the venue as they will provide onsite support if any issues arise, with the tight timeframes of exhibitions, there really are no other options – this can easily be arranged yourselves by reaching out to your event organiser (they will point you to the corresponding contacts).  
Electricity
space only booths will not be provided with any electricity in their package, therefore it is important to book this in with the official event contractor (different for each event).
Pricing from appx $250 per 10amp.
Cabled Internet/Wi-Fi
For some companies, having wired internet is critical as fast speeds are required for demonstrating their products.
Pricing from appx $225 per day.
Plumbing
It is common in food and coffee expos to include plumbing services for food preparation or connection to machines so they can function etc.
Pricing from appx $275 per water supply.
Catering
Can be arranged with the venue to encourage visitors to stay in your booth for a more relaxed experience.
Pricing on application.
Rigging
If you have a hanging banner you would like to hang, it will be necessary to book in rigging services.
Pricing from appx $600 for wired hanging.
Forklifting
Onsite forklifting is required for unloading the pallets and moving them to your booth, this is an un-avoidable cost.
Pricing from appx $60 per lift.
Onsite Storage
Storage of empty pallets so once bump out begins; the dismantled components be packed back onto the pallets straight away.
Pricing from appx $60 per cubic metre.
Onsite Works​
This includes work done onsite as well as the transportation of your booth to and from the venue.
Logistics
Depending on the size of your booth, sometimes a Ute is sufficient to transport your pallets, other times a large vehicle will be required.
Pricing from appx $400 each way.
Installation
This includes installation of the flooring and structure of the booth and includes final touches to get the everything show-ready; other specialized elements will incur additional installation costs such as client product installation and graphics installation etc.
Pricing from appx $1000 for a small stand.
Dismantle
This includes the dismantling the whole booth and palletizing ready for transport back to factory.
Pricing from appx $500 for a small stand.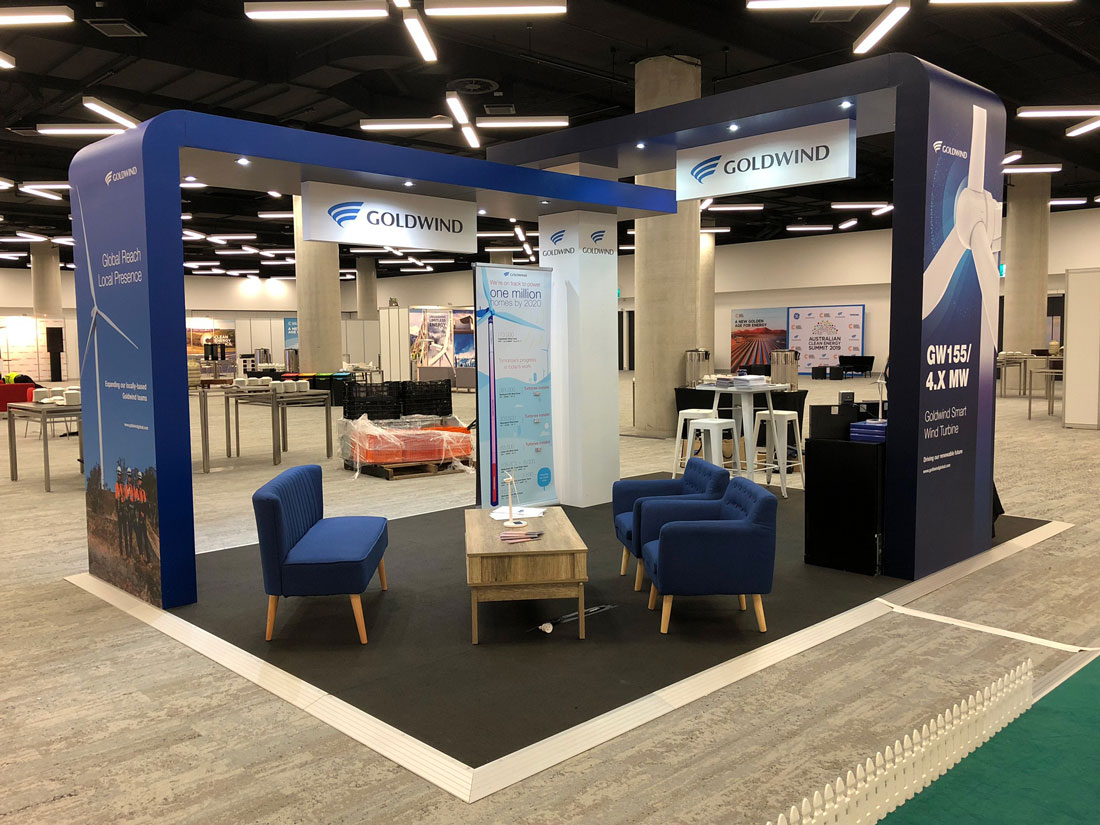 Other​
[appx 10% of total cost]
Depending on whether you are looking for a one-off exhibition booth or investing into something long term so you can reuse multiple times, there will be other cost you should factor in for budgeting purposes, this includes but not limited to the below.
Booth Storage Between Events
To maintain secure and safe storage of your booth, it will be beneficial to store this with your stand builder, this was you also avoid the cost of freighting your pallets from your stand builder's factory.
Pricing from appx $5 per pallet space per week.
Disposal
This fee is required if you have no plans to reuse the booth in the future.
Pricing from appx $500 for a small stand
Refurbishment
Depending on the condition of your reusable booth, certain elements will require refurbishment to bring it back to show-ready condition.
Pricing from appx $500 for a small stand
Pre-Assembly
For non-standard booths, it is recommended to preassemble the structure in the factory to remove any doubts or potential issues that may occur onsite.
Pricing from appx $500 for a small stand

Conclusion
A custom exhibition stand can either be super simple or incredibly complex – the more information you can provide the stand builder, the better the quality of design options they can offer. As you can see from the contents of this write up, there are a lot of potential elements to add to your booth, but at the end of the day it is a matter of how well it is executed to best represent your company. Speak with the industry experts today at UCON Exhibitions to get a head start in your planning for your next event!