Exhibition or trade shows provide a very exciting platform for companies to gain great exposure and expand their network, whether you are a start-up or established in the industry. It puts companies who are in the same field to network and ultimately share the same goal of maximising ROI.
It is critical to ensure you are making the most out of your custom exhibition booth, every stand space is given the same limitations so it is up to you to share as much as possible with your stand builder so they can propose a tactical strategy for your event so you can succeed.
Grab yourself a coffee because here is our guide for how to boost your exhibition stand performance!
Know your Metrics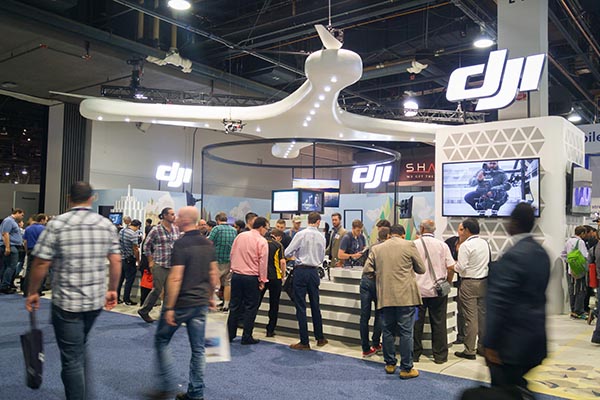 Stand Visibility​
If your booth does not catch the attention of visitors, then you are already behind because you would want the percentage of all visitors to see your expo booth at least once. Your booth is mixed in a sea of other stands almost side by side, so making sure you have sufficient signage and architectural elements are vital for catching your audiences' attention.
Another factor is booth location, your stand will gain much more exposure when you are situated on an island configuration (4-sides open) when compared to a layout which only has 1 open side.
Conversion Into Leads
Your booth could attract a large number of visitors and it is critical to filter out the those that are just passing by from ones that have a genuine interest in purchasing your product/service. Once you have sorted out your visual anchors that attract customers to your stand, the next step is to convert your visitors into leads.
Having information desks and information towers become useful here as these provide passive information gathering for your customer (keeps them engaged while your staff could be occupied with other customers). It is important to ensure your content is clear and direct, so it targets the intended audience you are trying to capture.
Conversion Into Sales​
This is the percentage of those you've interacted with and possibility for the lead to turn into a sale. Preparation is everything when it comes to converting sales, you should make sure your staff is equipped with all the important details or at least have it on hand to provide your potential client.
Once your client has all the critical information they require, they will then be in the position to have a comfortable understanding whether your company is aligned with their requirements. Having this readiness gives your customer a certain level of trust knowing that your company is capable and ready to execute.
Aesthetic Design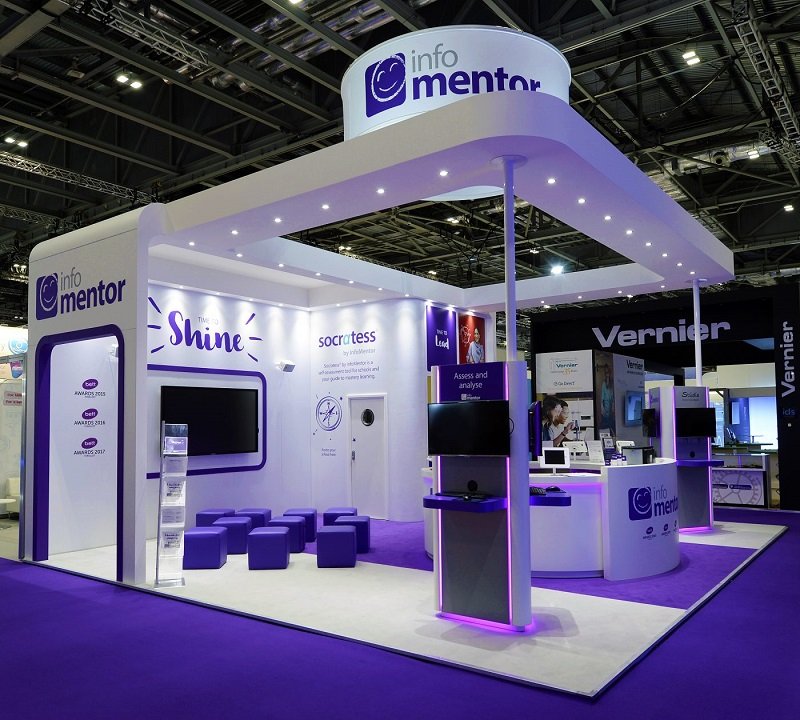 Flooring
There are multiple flooring options you can go with, some examples include carpet tiles, raised timber flooring or even vinyl – each with their own advantages. The flooring component stretches throughout your floorplan so its does create a large visual area which can be utilised to attract visitors.
If you have the budget to integrate custom flooring with the rest of the architectural elements of your booth then it would create a much more holistic visual impact which then represents your company in a very professional way, without saying a word you are already off to a good start to your conversation with your potential client.
Flowers
Plants can easily be forgotten, but these simple additions take your stand to another level as it can easily to utilised to create a natural environment – taking your client away from the hustle and bustle of the event and into a more secluded area for conversations.
Live vegetation can easily be hired and even just a pot plant is enough to give your booth that splash of colour to soften up the hard edges – simple yet effective. Plants particularly work well for companies who offer natural products or areas for discussions to occur such as meeting rooms or coffee counters etc.
Signage
There are a wide variety of methods to display your signage, whether it is illuminated, just printed or even integrated into the architecture of your expo booth – one of the important factors to consider is not to overcomplicate it with logos. Yes, it will make sure your branding is not missed, but at the same time it indirectly gives a negative impression about your company.
If executed correctly, less is more and if you can find that sweet spot for signage – you will be rewarded with quality clients. Therefore, make sure you locate signage where it counts and in a memorable way, so your booth is the one that is remembered.
Hanging Banner​
To capture audience at a distance, hanging banners are a useful component to include in your booth – don't forget to make sure you include lighting because if you forget that it would be a wasted heavy investment to upgrade to a hanging banner.
Another advantage of hanging banners is that they are completely reusable, it will be a high initial investment cost, but these can be easily reusable and reskinned. For extra effect you can add a motor so throughout the event, your hanging banner will be rotating which gives it that extra visual impact.
Lighting
Lighting is critical for highlighting logos and important features in your booth, you must know that the expo venue will be lit up with lights so you must have bright lights to illuminate your stand otherwise you risk the chance of getting lost in the background.
There are clever features you can utilise such as LED light strips to create visual lines of interest that draws visitor's attention to your booth, your stand builder would already have some ideas on how they can achieve this.
Pull the Traffic​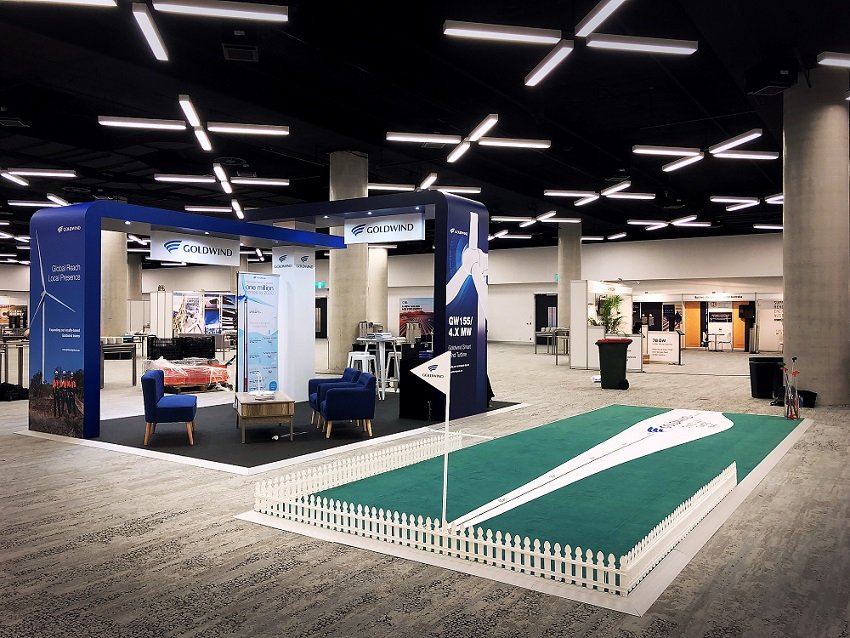 Giveaways
Having well thought out freebies will set you out from the rest and give you that point of difference, ensure that your branding is consistent with every item you are giving away. Using bold colours is an effective way to achieve this as you try to maximise as much surface area the freebie as possible.
You could also offer a branded packaging box with useful information such as pamphlets inside then pair it with a branded USB stick, that way everything is conveniently compiled, and easily accessible when the customer revisits their gift haul.
Props
A large prop can be an effective visual anchor to attract visitors to your booth, it is important to make sure you are selecting the appropriate prop – you could end up attracting customers they may not have any interest at all in your product/service.
If you have great sales team and all you need is to attract traffic to your booth, then this is a fun way to achieve that.
Challenges​
Creating an activity in your booth space is a great way to engage with your visitors, it also allows your customer to get involved and excited about a prize they can potentially win. This usually draws a crowd and people usually follow crowds to find out what is happening.
This is extremely effective when you can integrate a challenge with the actual product you are marketing, for example a pair of VR headsets – you could get a customer to complete a task within the VR realm and the fastest one could win something desirable.
Operation
Audio and Visual​
If you have visual appealing content, it would be worthwhile to include a large screen or even a video wall (LED Panels) to showcase your company. A video animation will provide so much more information compared to a static graphic image, so adding this to your display should definitely be considered should it compliment your products/service. A lot of exhibition equipment are often hired to save your on costs and convenience to ensure everything works during the event.
Additionally, there are neat methods to utilise Audio and Visual components such as positioning them a particular layout to create that extra level of interest to draw visitors to your booth.
Meeting Rooms/Areas​
For companies who require a certain level of privacy to discuss sensitive information, it will be beneficial to include a separate meeting room. These provide customers that additional level of comfort to keep conversations confidential.
Having a meeting room also gives your potential client a sense of priority/special treatment which never hurts to have, it is important to make sure your booth size is large enough to include a meeting room to make it comfortably usable.
Storage Rooms
Storage space can come in the form of a lockable cabinet or as an actual room with a full height door, it will depend on your requirements. Having a storage room will be functional if you have large boxes to store (without having to pay additional storage fees) – another advantage is that you won't have to wait for your storage boxes to come back you, once the event ends, you can straight away start dismantling your products and get them in its box so its ready to go.
On the other hand, if you do not have large products to display then all you would need is a lockable cabinet to store your belongings during the event – this is a great space saver so you can maximize the usage of your stand space.
Right Sales Team
There could be all types of questions that arise during an exhibition, some customers may come equipped with questions they want clarity to and for these situations it is critical to have a well-trained sales and technical team on deck to attend to those matters.
Knowledgeable sales team will provide your potential client that additional layer of comfort and trust, this is always important when trying to secure new clients, they know nothing about your company and its your teams job to introduce and educate them where it matters.
Conclusion
Entering into your first adventure into exhibitions or tradeshows will feel like venturing into the unknown. Therefore, finding the right company to guide you through the process will benefit you so you can avoid all the known mistakes that previous exhibitors have gone through.
Small or big, there is always knowledge that can be shared to improve your experience and ROI.
Contact the experienced team at UCON Exhibitions today and let us help you to achieve success at your event.