Ancient Roman's word for left was "sinister", which came to mean misfortune, whilst their word for right "dexter" had positive connotations that still exist today. "Left", by contrast, comes from the Old English word Lyft, meaning weak. The French word for left means clumsy, while the Italian word means sinister.
You may be wondering about the linguistic lesson, but moving right and left in exhibitions are key to success.
Around 90% of people are right-handed; entering an exhibition will automatically move to the right, and the left-handed person will move to the left. Research shows that there is a link to our dominant side of the brain that dictates our movement.
As we discuss how to design exhibition space to maximise foot traffic as an event manager, do this in mind.
Unfortunately, most venues are not well designed for exhibition space, if they even consider exhibition space at all. As an event manager, you will need to consider pillars in some venues, emergency exits, entrance, and exits to the exhibition as well as maximise the flow of traffic to encourage maximum exposure for your exhibitors.
There are almost no studies in the temporary exhibition space on the science of movement of people, signage etc. However, some studies in the museum exhibition space can and should be adopted by event managers to improve the success and engagement of visitors. Leading visitor researcher and educational psychologist Stephen Bitgood's book, "Designing Effective Exhibits: Criteria for Success, Exhibit Design Approaches, and Research Strategies" is a must-read to understand visitor movement better. He coined the phrase "Attention-value model". The model is a three-phase continuum of capture, focus and engagement, and the primary motivation for the visitor to pay attention is perceived value. He proposed three types of visitor measures of success:
(a) behaviour measures, including stopping (attracting power), viewing time (holding power), social impact, human factors impact, and trace or decay measures
(b) knowledge acquisition (memory, comprehension)
(c) affective measures (attitude change, interest level, satisfaction)
More recent research was undertaken by Multimodal Technologies and Interact. 2017 in Norway, they researched a few museums to ascertain and measure visitor movement and engagement with the exhibits. They developed the Engagement Design Model; see below. The areas of highest engagement are:
Social
Interactivity, Narrative and Competition
Physical and User Control
Achievements
Exploration
This sounds interesting, but you may well be asking how I can apply this to an exhibition floor plan that I'm designing.
You've decided on the venue and drawn up your exhibition floor plan. Still, you will have no idea at the beginning of the type of exhibition displays and content that your prospective exhibitors will be sharing with visitors/delegates.
Applying the Attention-value model to a tradeshow/exhibition
It is difficult as an event manager to apply the above principles from the outset with so many unknown variables. However, you can apply some of the principles in the layout, corridors, and other control areas.
Even in a specialist event, you may think about creating "suburbs" of similar types of exhibitors. For example, see the image below where this art show has created a Handmade section. The area could be another sponsorship opportunity.
This will make it easier for the visitor to orientate themselves and make it easier for them to go back for a second look. However, I would suggest making the sign at least 3 times the size to make it more visible from more areas as well as in proportion to the space.
You may think about sacrificing one or more exhibition stands, depending on the size of the exhibition, to create "social areas" that are not related to food. You could call them "social pods". In addition, they could be sponsored, which will make up for the loss in revenue from an exhibitor. Although exhibitions are noisy and our senses are in overdrive, an event manager may take a leaf out of a solution used for dementia care. The Wellness Nordic Relax Chair combines music, tactile stimulation, and rocking motion to offer a unique and calming multi-sensory experience. It can take as little as 10 minutes to make a remarkable difference in reducing stress.
Alternatively, making the room soundproof, with soft lighting, music, and soft seating, could also work at inducing calm.
Another principle you could apply and amalgamate is wayfinding.
What is wayfinding?
"Wayfinding encompasses all of the ways in which people orient themselves in physical space and navigate from place to place." Wikipedia
Wayfinding is usually applied in buildings such as universities, government buildings, hospitals, schools etc. Essentially public spaces.
I'm going to use a hospital as an example. Hospitals use wayfinding systems for ease of movement and for visitors to clearly determine where they are going. In addition, they use colour to delineate different areas such as radiology, wards etc.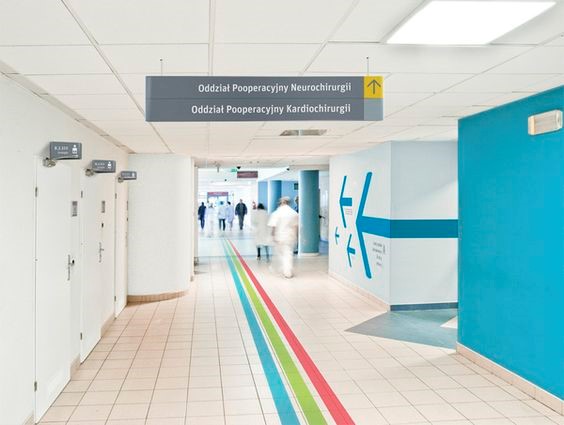 Wayfinding principles can also be applied in an exhibition space in an innovative way that can also be sponsored.
The orange lines below are interesting but don't assist in showing a visitor where to go, whereas the red tape in the other image is printed with info. This could be enhanced by tying the sponsorship of the suburb with the wayfinding tape by being colour coordinated like the example in the hospital with a little branding included, such as a logo.
Access and movement
Whether you are running a B2C or B2B exhibition or trade show, a clear entrance and exit are crucial. This is where the visitor experience begins. Have you created excitement with your entrance that they can't wait to see the delights unfold? However, don't make the mistake of a major investment in the entrance and not following through throughout the show.
Your wayfinding should begin at the entrance. Include the wayfinding signage, suburbs, and social pods in your floorplan brochure that visitors are given. They will soon connect the dots.
As an aside, access control is crucial as this directly impacts your bottom line as well as your visitor numbers for statistics. So investing in RFID or other technology to alert your team when unauthorised wants to enter the exhibition makes sense.
The RFID technology can enhance your normal badge sponsorship. For example, find out whether your chosen technology can track the movement of people showing where they walk, how long they stay at stands, where they move in a stand etc. This information is gold dust for the sponsor as well as for your future planning.
Adventure Unfolding
We're all children at heart, even when wearing a business suit.
We've covered the social aspects of the Engagement Design Model in the social pods. Still, we now need to explore further the Interactivity, Narrative and Competition, and Physical and User Control.
You may well think that interactivity is already covered because the exhibitions themselves offer that aspect. You will be correct in thinking that. However, I would like to add to that by thinking like an event manager, what can you add to enhance the visitor experience and complement the exhibitors.
Can you create a competition like a treasure hunt for visitors that encourages interaction, narrative, and competition as well as ensures visits to every booth coupled with fun interactive options that could be taken from gaming, i.e., throwing a sack or ball through a hole etc.? If you tie the RFID technology to this game, you could keep a scoreboard on social media that further encourages play or use an app like Goosechase. This is an excellent tool if you're wanting to run hybrid events. You could also look at adding a gamification component to your exhibition app.
Physical and User Control
My interpretation is moving beyond the interaction and more to how can an event manager hand over some control to the visitor.
Exhibitions are one-way traffic that visitors interact with but don't have any say in. One can't change the exhibition, but perhaps one can ask visitors at touchpoints around the exhibition to provide feedback. For example, a sticker on the floor or a sign from an exhibition street to prompt feedback could be used. Reward the interaction by providing extra points in the competition.
Use the opportunity to ask questions that will augment and add value to your organising the event next year as well as to sponsors and exhibitors. Ask them to contribute questions not based on their stand but the visitor experience overall. There will be loads of overlaps but try to get narrow it down to questions that will give you the desired information that will add value. Survey design is a science, and it's worth investing in to ensure you get it right.
Provide feedback through social media, a newsletter, etc., to visitors on their responses to enhance the show for the following year. It will demonstrate that it wasn't a pandering exercise, but you really value their comments. You want people to become invested in your exhibition, and they demonstrate that care through interacting with you either through social media etc.
Conclusion
Exhibitions now need to incorporate some experiential marketing components of a Las Vegas show to ensure you are not only memorable in the minds of the visitors but that the B2B sector you're operating in sees the show as THE event of the year. This ensures the longevity and profitability of the event as well as makes the marketing and sales so much easier.
Think beyond the delivery and duration of the exhibition and see it for what they really are – a starting point for explosive customer experience, which they communicate to their circle of influence verbally or through social media. Keep the momentum going well after the show by reporting back and then changing the content to what they can expect to see to build excitement that you deliver and exceed at the next show.