Exhibition stands can end up very costly based on the information you provide to your stand builder and their capacity to execute the complexity of the project. Each stand builder will have its own manufacturing methods and preference of materials/finishes, but there are always ways to bring the cost down of your custom expo booth. We will run through the 5 common pathways you could take to reduce the cost of your exhibition stand; these include starting early, defining your goals, working with a local exhibition stand builder, purchasing a reusable stand, and long-term planning. They may not all suit your circumstances, but they are some key points to consider if you are looking to save costs.
Start Early
It is highly recommended to start early – when we refer to early, we'd suggest giving yourself a minimum of 3 months, this consists of 1 month for design approvals then 2 months for stand fabrication (ordering materials and labour to build components etc). The more complex your stand design is then the more lead time required.
Depending on the complexity of the booth and schedule of from your stand builder, it is possible to execute a job quicker than this, but there will be potential consequences such as shortage of materials or a simplification of the stand build because there simply is not enough time to build the design you are after. Starting early allows you to explore more options, whether it is the stand design, or the materials you'd like to use or specially order – even if the event is 6 or more months away you can never be too early.
Define your Goals
Since stand builders are involved in the exhibition industry daily, they are aware of the direct costs to get things done and the realistic timeframes required. Therefore, if you can define your goals with the stand builder, they can take that information and propose an optimal solution (design) to help you meet those goals with highest ROI.
If your goals are not clear, then it could end up a long process with several rounds of conceptual design (one design could suit one of your goals, but it may conflict with another goal). We'd suggest prioritising your goals, what is your absolute main goal and what are the secondary goals, then the "nice to have" goals as the lowest priority. For example, you have a hero product and it is critical to have something that will highlight its features, it will then be a priority to have a custom product display stand made so that your hero product is effectively displayed. This structure will help you get to a stand design that you are after as quick as possible.
Equally, if you have any limitations such as budgetary constraints, it is worth sharing this so that the stand builder can directly propose a solution for you that meets your budget, from there it will make it much easier to figure out exactly what you can remove or add to the scheme (as opposed not sharing your budget constraints then getting a proposal from your stand builder which may cost double and additional time for you to wait so that a new proposal can be drawn up).
Deal with a Local Exhibition Stand Builder
If you can find a local exhibition stand builder, then you can save on freight costs – at times when sending stand components interstate, it can cost a fortune (based on pallet sizes etc). Another reason why you should deal with a local exhibition stand builder is because they will be able to stay in control throughout the process in case any unexpected delays/issues happen. For example, one of your carpet tiles are damaged – they could easily go back to the factory and bring a replacement.
It would be a different story if and your stand builder had to travel interstate and all they have is what they brought with them. Local exhibition stand builders will also work out more cost efficient because they will know exactly how the process works (so they will only charge for what is required) – at times when travelling interstate, there may have to be extra allowances that have to be factored in which adds to the total cost (or may be charged at an addition hourly rate to the exhibitor).
There may be the situation where you have been frequent dealing with one local exhibition stand builder and prefer to go with them, but the event is in another state, in this case there is a chance that your stand builder may have local partners who can execute part or the full scope under their supervision – we suggest speaking to your stand builder to see what can be done for events interstate, as long as it is managed correctly, there should not be anything to worry about.
Purchase Reusable Stand
A reusable stand means all components are brand new and the intention of this is so that you own the whole booth and can reuse this repeatedly (just make sure you book the same or similar booth location each time). The initial upfront costs will be higher, but it means you won't need to pay for fabrication costs again because you already have everything ready to go. The other unavoidable costs you'll have to pay per event will only need to be for the logistics, onsite works (installation and dismantle) and onsite services (electricity, onsite storage etc). To maximise the longevity of your booth, you may also want to opt for a storage crate to store and protect all your stand components – these work out great when you need your booth to travel interstate.
You may wonder what happens to the crate between shows, these can be either stored at your stand builders' warehouse or even at your own facility (which will save you on storage fees). Having a booth which is built and ready to go has its perks, it means that if you have relevant events which are close to each other (say 1 or 2 weeks) – it means you can literally pack up your booth from your first event and have it ready to ship to the next event location, this is great to maximise your exposure with minimum effort.
Long-Term Planning
Have a look through your calendar and check to see which events are suitable for your business, if they look appropriate then get in touch with the event organisers early so you can secure a good spot as well as potential early bird pricing – the more events you book the better because that means you get to use your booth more often and gain more exposure with your customers and industry companies (more chance of networking and possibility for forming partnerships). The more often people see your stand, the more engraved it is in their minds, and it visually lets people know that this is your industry and are here to stay.
If you have intentions to attend events long-term (several times a year etc), it would be very beneficial for you to share this plan with your stand builder because it would put them in the right mind set to propose a solution that would complement your long-term strategy. For example, rather than have vinyl graphics installed onsite, you could have these wrapped around each individual wall flat instead, this means you won't need to cut the graphics where they join (when they dismantle the stand) – you would have a professional and consistent looking booth every time. When it comes to brand exposure – consistency is everything! This could be the most effective method to reduce your exhibition stand cost in the long term.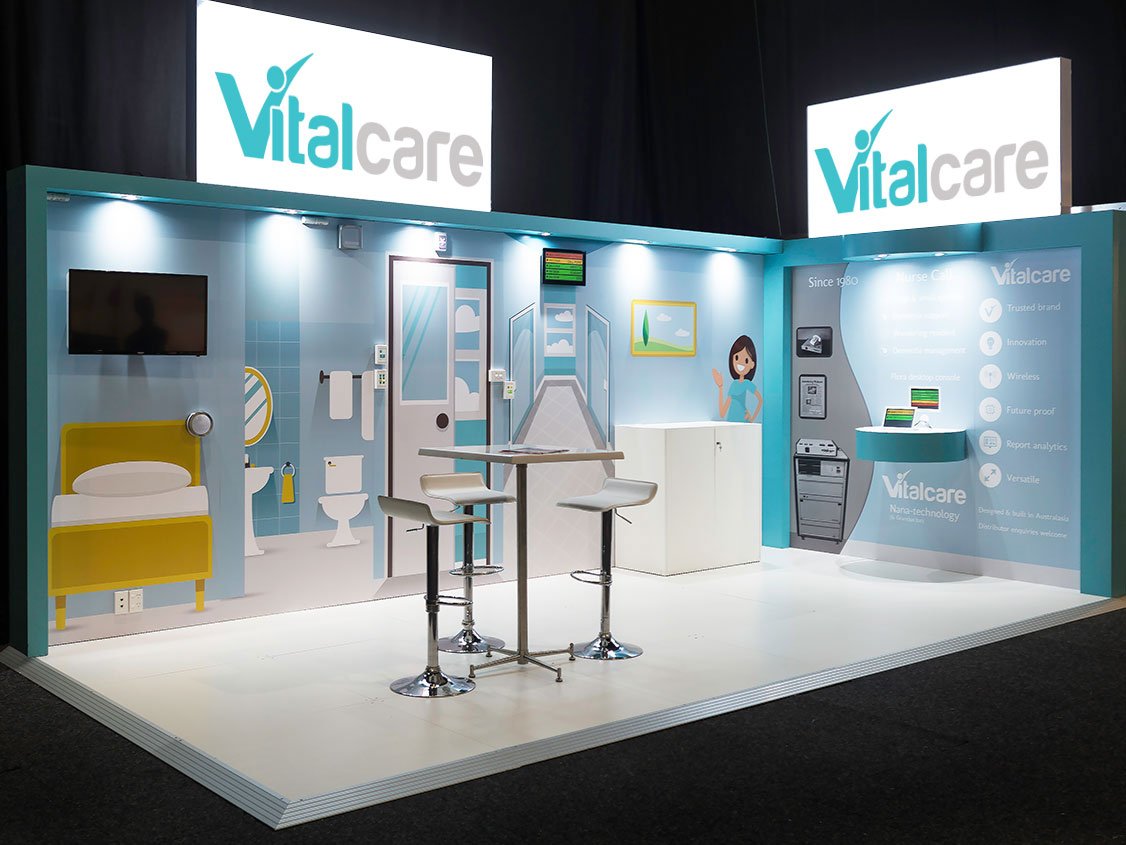 Conclusion
In conclusion, there are several pathways you can take to reduce the cost of your exhibition stand, most of the time it can be as simple as reaching out to your stand builder and discussing with them what your short-term or long-term plans are for the event so they can suggest and propose a relevant solution for you to make the most out of your event in the most cost-efficient way. If you are planning to attend an event and are unsure about where to start or how to approach it, why not speak to the industry leaders? UCON Exhibitions has been in the industry for over five years offering advise and executing beautiful stands with returning happy clients. Speak with one of our team members today!