Shell schemes are often considered the most cost-efficient pathway for exhibiting at an event, but it will risk your visibility and because of the basic visual appearance, it usually gives a negative impression that can mark your business as "cheap" meaning your ROI and the quality of clients you may attract won't be that great. But that's why you are reading this article, because we are here to give you ideas on how to make your standard shell scheme booth visually attractive and enable you to capture quality clients and impress them with what you have on offer.
What Are Shell Scheme Exhibition Stands?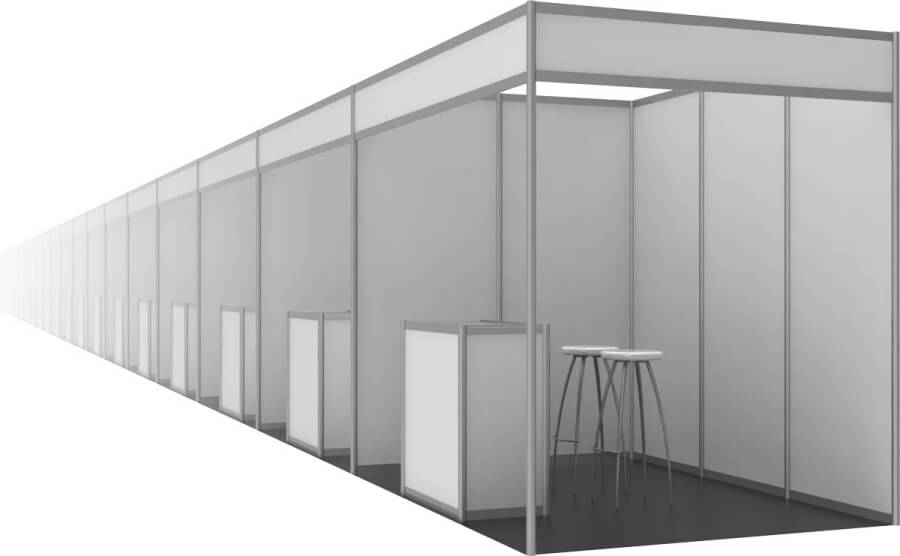 Shell schemes are the baseline for exhibitions, they are the standard booth package that you can opt in for once you book in a booth space. Each event is organised differently so they will provide different options, but typically what usually is included in the aluminium framing structure with blank panel inserts as the "walls" and an overhead fascia board which you can use to add your logo so visitors can identify your booth.
How To Make Your Shell Scheme Booths Stand Out?
There are a few things you can do to upgrade your shell scheme booth which can change your visitors first impression from negative to positive. These are not limited, but we'll run through our top ideas which you can consider doing.
Lighting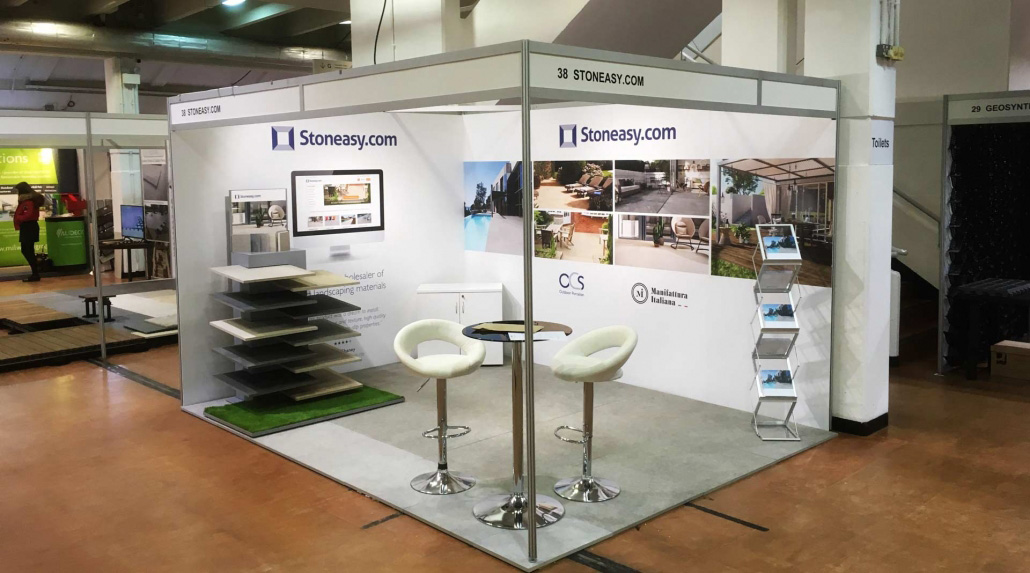 Make sure you add lighting into your booth (lighting is usually not included in the standard package). With lighting consider utilising different temperatures to achieve a different type of theme, use softer temperatures such as 3000K for more of a lounge and relaxing effect, and for the opposite you can use 6500K for a nice and bright appearance – these are great for highlight products or messages you want your customers to focus on as soon as they see your booth.
Décor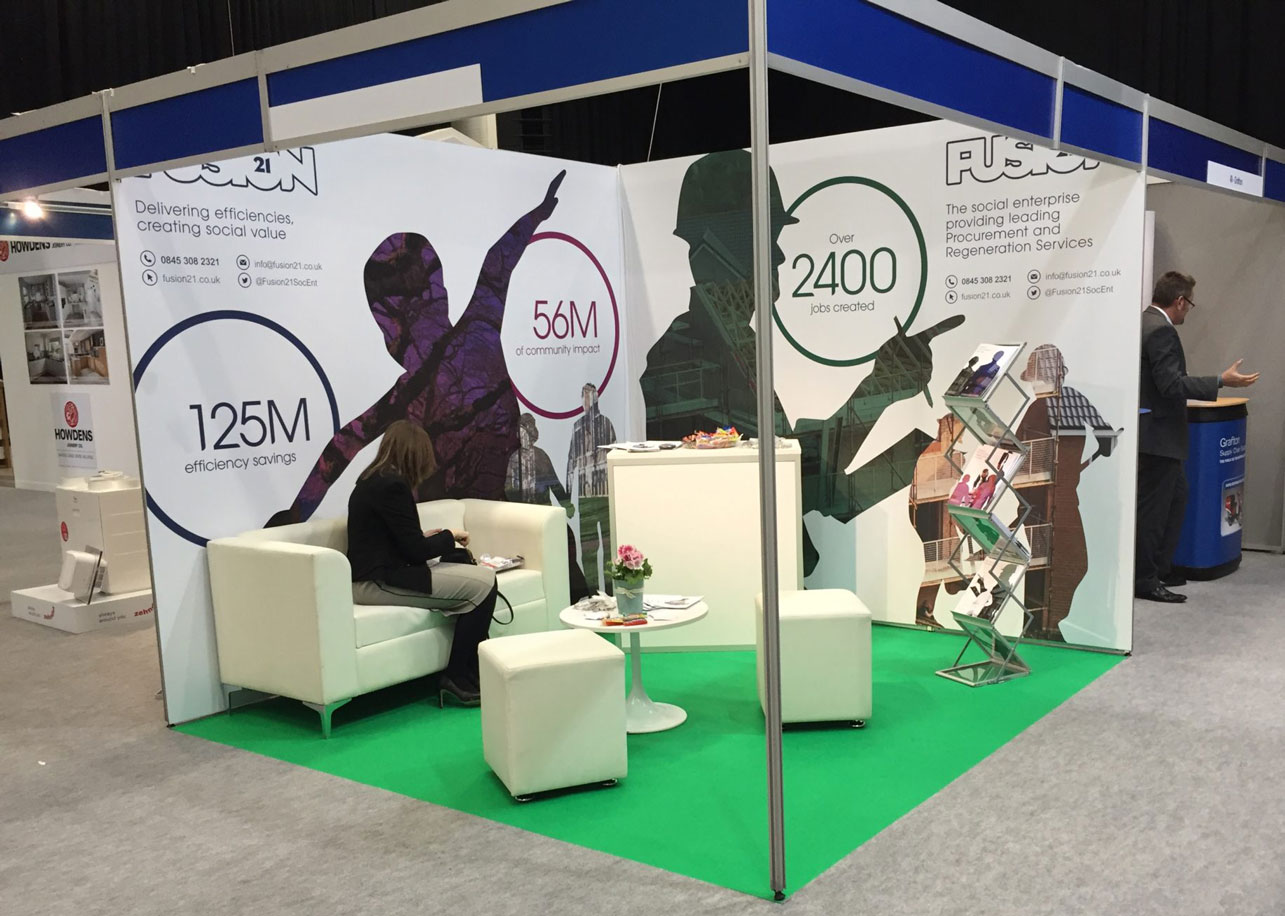 Consider hiring exhibition stand equipment into your shell scheme booth, something as simple as some table and chairs can make your booth much more inviting and doubles as space for you to rest or conduct a small meeting etc. You can also look at getting some live plants to add colour and life into your booth – having attractive greenery is great as customers are likely to compliment it and initiate a conversation with you. Décor items can be either hired or easily purchased yourselves (you can just take it into the event with you) – this can help save some costs as you'd be able to reuse it another event or use it for other purposes, rather than hiring something which is in used condition and with limited options.
Pop Up Displays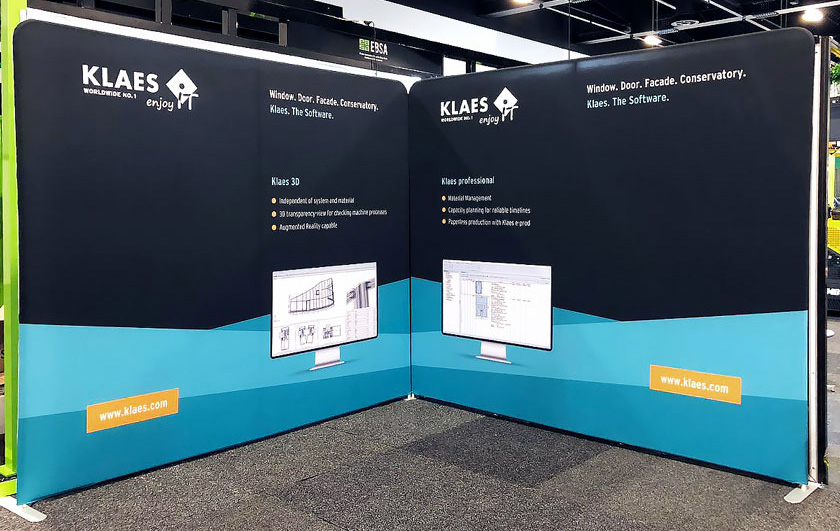 Pop up displays provides full height and width graphics and are a great solution for you to get rid of the distracting aluminium joint lines, these are purposely designed to fit in front of the aluminium frames. A tip is to get the overhead fascia frame and panels removed, it will make your space look bigger and more inviting. Tension fabric displays are not only giving your booth a much cleaner and professional finish, but they are also reusable, portable, super easy to assemble and dismantle – so it can all be done yourselves saving you money so you can maximise your ROI. Pairing the walls with counters is a great combo, this system comes in all types of shapes and sizes so don't let this one slip past you.
Are Shell Scheme Exhibition Stands Effective?
In short, yes it will do the job if you are wanting to just get noticed and to hand out flyers so visitors can learn about your business, but it all comes down to how much impact you want to create. How many of those visitors that pick up one of your flyers will return to make a purchase? or of those who see your booth will approach you to have a chat to find out more about your business?
Having a shell scheme makes it very easy for your visitors to just have a glance at your booth then walk away, there are no dominant elements that gives them an incentive to enter your booth. There are certain things you can do to boost your exhibition stand that will help improve your conversion rate to a certain degree, but if you are after something that really wows your visitors you may want to consider a custom expo booth instead.
Conclusion
With the different ideas we have provided, which one are you likely to consider implementing at your next event? Upgrading your standard shell scheme booth is a no-brainer, it could be as simple as adding lighting to help visitors identify your booth and be seen from a distance. Shell scheme booths are typically quite small, so it is important that you are selective when picking the upgrades, so they specifically help you highlight the parts of your business to your customers. Keeping it simple can often be one of the most difficult effects to achieve, but we have good news! You don't need to be alone in this process – consider partnering up with UCON Exhibitions – we are industry experts and exhibitions are second nature to us. Let us offer you the winning solution for your success at your next event.