I love the excitement, buzz, and smell of popcorn or coffee wafting in the air as you walk down an aisle.  Exhibitors pop out of their stands with an expectation on their faces hoping to chat with you before you walk away.
Bright colours around every corner, balloons, walls of videos, and so much more make exhibitions an exploratory as well as a sensory experience because you don't know what's around the next corner.
Exhibitions offer a unique opportunity for current customers as well as potential customers an opportunity to interact and engage with who your company is beyond the logo and products/services.   Your staffs are a reflection of the ideals, values, and expertise of the company. 
So how do you, as a company at an exhibition, make those connections as the start of the building block of a relationship? 
Be creative. Create something memorable.
What is Customer Engagement Marketing?
Simply put engagement marketing is one where the company seeks ways to influence consumer spending beyond the wallet but by winning their hearts and minds. It's about building trust through different user interfaces and living what the company stands for through your vision, ideals, and values.
We sometimes forget that we buy from people who we connect with or like who happen to work at XYZ company.
The unique opportunity that exhibitions offer is engagement. Visitors can chat with your staff and learn more about your product and/or services and how your solutions fit their current or future needs.
Ensure you have staff that are kind, friendly and approachable and can talk to anyone on your stand. They can make all the difference to your success.
How to Attract and Keep Attendees Engaged at an Exhibition Stand
In a crowded exhibition hall, standing out is key to your success. Think about the goals your team has outlined to achieve for the exhibition – are you launching a new product, relaunching a service, etc.
Now you have the goal in mind, the next step is defining how to get the message across through the myriad of touch points exhibitions to offer that feed into our five senses:
• Sight
• Smell
• Touch
• Hearing
• Taste
Let's investigate each sense in more detail and how one could apply them within an exhibition context.
Sight
Our brains are still wired for hunters and gatherers and love colour. Red is the most stimulating colour that evokes a physical response that taps into our fight and flight mode. Yellow, on the other hand, is a happy colour due to its association with the sun. One cannot imagine a smiley face in any other colour other than yellow having as much impact. Blue stimulates our problem-solving and innovation brain and is the most popular colour across any culture.
Smell
Supermarkets have learnt the value of having a bakery churning out freshly baked bread at rush hour to stimulate buying. The Body Shop, Lush and other similar stores' heavily fragranced products and colours entice you into the store.
Research in Japan has shown that citrus smells result in a 50% decrease in typos when typing. However, peppermint is the number one smell that activates our productivity and brain waves. Other smells to consider are jasmine, cinnamon, and camomile.
Touch
Humans need to be touched. Neuroscientists have shown that touch and hugging for twenty seconds put your body and brain in balance.
The isolation and resultant mental health issues could have been mitigated if we could have received a few hugs every day.
Hearing
Hearing is our key communication tool, and it's the most sensitive. I would like to raise the difference between hearing and listening. Hearing is the involuntary and natural result of an organ's performance. Listening, however, requires effort and an active effort. The dictionary encapsulates the difference as "to hear something with thoughtful intention".
So how can you, as an exhibitor, bring the five senses to bear on your stand to help make you stand out, you may be asking. I would start with goals for your company and brand at the exhibition. Below are two examples to illustrate how to utilise some or all of our senses in an exhibition setting.
Example 1
The company manufactures mining equipment.
The sight would be crucial here as most mining equipment is painted yellow to be easily visible. Suppose the expo stand is outside held in summer. In that case, this offers a unique opportunity to tap into more senses by offering the subtle smell of citrus that one could pump into a misting system to cool delegates off on a sweltering day, thereby making a stand so attractive. A video streaming how the equipment is applied and the problems it solves further taps into our visual sense.
Example 2
The company manufactures furniture.
Furniture is something we touch. It can envelop and make us feel protected and safe. It can get us from A to B more easily if on wheels.
Having a stand with furniture that has smell sachets in the seats, armrests, and backs to subtly release fragrance would be unexpected and emphasise comfort.
Coupled with the smell of freshly brewed coffee offered in branded mugs and biscuits would reinforce those feelings. The stand would also offer a haven of quiet and calm and thus be memorable.
A takeaway could be the mugs they've drunk from with an extra bag of biscuits. No cleaning up issues, and they won't forget the experience.
How to Design a Modern Exhibition Stand that Engages Visitors
Take into consideration what goals you want to achieve for the exhibition and the five senses and how you can translate them into a seamless experience that enhances your message.
If you're running a show in the depths of winter, offering warm food or drink is easy and creates beautiful smells that attract visitors to your stand.
In the heat of summer, offering cool and iced drinks, misting stations, and ice cream with branding can achieve the same results.
Also, think 360 degrees. Most people forget about the ceiling of a stand. You can hang a chair if that's your business. You've taken the mundane and elevated it by changing the context from floor to ceiling.
Keep in mind the back of your stand if it's visible. It can be an opportunity to engage with visitors either through measuring or feedback.
The example below asks people to measure their happiness levels. Whilst the conversation board has postcards prompting visitors to share what they would like to have conversations about. If you have a corner stand, you could close one side or part of one side if you have a long stand to implement this and then use visuals to prompt them to the following action.
In the conversation board example, you could get your staff to ask them for their card to initiate the conversation and offer a mug and biscuit as a reward as they leave. You can tie in the colours of the pens with the mugs to further imprint.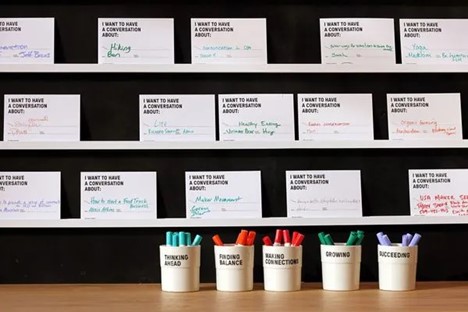 How to Make Your Exhibition Stand Out
Be inventive. Think simple. Have a budget that's less than you would typically spend. You may be thinking, "WHAT?" In my opinion, having less to spend forces ingenuity. You will have no choice but to come up with a creative solution to a problem.
Keep in mind the rule of three. Threes or any odd number has a powerful impact on our brains. We find interest in odd numbers. Hang three chairs instead of two. If you have TV screens have 3 smaller screens rather than one huge one. Look at the furniture of your stand. Instead of the usual table with four chairs, have pouffes in odd numbers and no tables.
Tables act as unintentional barriers to conversation. Engage an artist. Artists look at the world through a different prism. Below are three examples to stimulate ideas.
The late Christo was known for wrapping buildings, islands etc., in fabric. According to his obituary by Will Gompertz,
"He wanted to turn everyday life into art, to make people look again and think again about their surroundings. He did this by way of intervention – either by wrapping a building such as the Reichstag in Berlin in blue material or a section of the Australian coastline in one million square feet of fabric – in both cases turning cold, hard structures into sensuous, fragile sculptures."
Berndnaut Smilde is a sculptor whose artworks last 10 seconds. He uses vapour to create clouds in the most unlikely places ranging from cathedrals and museums to coal mines.
Both these artists create a sense of drama out of what seems mundane.
A wild idea could be asking visitors to help build your stand with the materials provided, much like the artist that used recycled material to build the rabbit below. It would be a considerable risk, but simultaneously create a conversation piece and create incredible social media buzz and collateral for sharing by visitors.
Simple Exhibition Stand Ideas
Be bold. Keep the KISS principle at the forefront. What is your message, and how can you communicate that message in a fun way that engages visitors' senses and captures their imagination? Time Inc, at the relaunch of their magazine brands, used the colours of the new logos in doughnuts to fire the imagination. The magazine titles are all in black, with the only colour coming from the orange round arrow in the word "new front" and the doughnuts.
We've spent time imagining different fun engaging stand possibilities, but it will all fall flat if you don't follow through at the Show and afterwards.

Doughnut example.

Nice idea to have on the side of your stand. Give them away. Have a word printed behind the doughnut to prompt a conversation that links to your product/services. After the show sends them a postcard with an image of a doughnut and a message. The doughnut will remind them of the experience and bring a smile to their face and also the chat they had with your staff.

What to find out more about Exhibition Stands? Contact us now!