Exhibiting at trade shows is one thing, but it's a completely different ball game when strategising how to approach and speak with your potential clients. You won't want to scare them away too early or bore them with too much technical information that they do not really care about in the initial conversation (but also depends on the audience). Our trade show communication tips list here give you a bunch of techniques you can implement at your next event, just try a couple or even all of them!
It is all about setting out your goal, what are the key details you'd like to get out your brief conversation from visitors before knowing if they qualify for the next stage of your sales strategy (if you have a tonne of visitors waiting in line, you'd want to be efficient as possible – so if you can filter out the quality clients then your time is well spent!). Some points are much more relevant that others, additionally you can also check out how you can make the most out of your trade show event and our tactical guide to trade shows to find out strategic methods to improve your exhibition strategy.
First Impression Matters
Make sure everything is clean and tidy, from your booth presentation to your personal presentation – dress to impress and it will give your client an instant impression that you are here to do business and offer quality products or services. You could even go as far as adding scents into your booth to make it smell fresh and clean which gets your customer in a comfortable environment to have a relaxed conversation with. Opting for a custom trade show booth is another great way impress your customers.
Be Approachable
Greet customers with a smile and shake their hands, do not be afraid to make the first move to connect with visitors – some clients may be on the border whether they want to visit your booth or not, so if you give them the impression that you are friendly and welcoming, they would more likely stick around to find out more about your product or services.
Know your Customers
Research is key, do you know what the type of audience the event you are exhibiting will tend to attract? Could they be the general public that may not have even heard about your business before? (you'll have to give them the big picture about what your business is about before mentioning any subcategories etc). Or are they trade customers who are aware of the type of product or services they are after (would be interested in more technical details with specifications etc).
Once you know you audience, you can prepare the appropriate material to have on hand and be ready to address any of your customers concerns. Having the right stand design can make a big difference with attracting the right customers, so if you know the type of audience that will be attending the event you can have a booth design specifically to impress that group customers.
Be Confident
One of the more important trade show communication tips is to be confident, lack of confidence can affect the customers impression of the quality of products or services you are offering. Be relaxed and converse with your client casually to get them comfortable so they can also be less critical and use that baseline to slowly feed features of your business.
Practice Conversation Starters
If you have no idea what the first thing to say to a customer, it would be helpful to have a list handy. Suggest staying away from the boring topics such as the weather! Imagine being in your clients' shoes, the are going to be approach by a lot of salespeople and you'd want to catch their attention – perhaps it could be a fun take on something that is related to your product or services? Intrigue your customer, but don't make it sound too forced or desperate.
Ask the Right Questions
What is the end goal for attending a trade show for you? Is it simply for brand exposure or is it maximising lead generation and product sales etc? Based on your goals, you should frame your questions to get the outcome you are after. Trade shows only last a few days and within that timeframe, you'd want to get as much as you can out of it. For example, one of your early questions could be a question that can filter out whether they are here to just browse or if they are looking for something specific.
Provide Information Materials
Being prepared is a big part of trade shows and having information on hand really helps. You could sometimes be overwhelmed with visitors and won't be able to spend time with each one, when this happens – brochures and pamphlets are great to keep visitors engaged and learn about your product/services. The information provided in the brochures may even be enough to help answer your customers question – the key is to make the brochure interesting to look at, if its just tables and text it will bore the customer and they would most likely move on.
Be Humble
It great to show confidence about your product/services but it is also important to see it from the customers point of view because at trade shows, you are providing a personal experience for each individual and they will take that away with them. People tend to make judgements based on how they feel, so if you end up bragging about what your product is better than others – it may put them off and they may start to lose interest. Instead, perhaps you could explain to them about the journey, how you got where you are and would love their support – this will give your customers a better purpose and reason to support your business.
Focus on Building Relationships
You could either choose a rapid-fire method and ask questions purely for business purposes which gives the customer no personal connection or you could take a bit more time and have a proper conversation with your potential client. Creating these personal experiences also create lasting memories that will hopefully end up the first thing that pops into your potential client's mind when they are next looking for a product or service that you can offer. These relationships can also expand to word of mouth as they confidently share your business with their friends and family etc.
Do NOT Sell Aggressively
Selling aggressively is when you are literally in the customers face and when the customer asks a question, your do not answer directly and instead you veer off and talk about the features instead. It may seem efficient to give all you can as quick as possible, but in reality – especially if its your customers first time learning about your business it could seem overwhelming, and people just need time to digest and have space to think about whether your product/service is right for them. Take the time to learn about your customers concerns and see how your product/service can specifically addresses those issues.
Light Humour is Welcomed
Introducing some light humour is great as an ice breaker and helps to position your customer in a more comfortable position to converse, it makes the experience more enjoyable which means your customer can be less critical and more laid back to continue the conversation with you. It is important to control how often you use humour as it could backfire in a negative way (it creates a negative impression which implies you are not taking the conversation seriously enough).
Don't make Assumptions
Be genuine and ask questions to find out about something you are thinking of assuming, it can be seen as ignorant to treat someone a certain way because of your assumptions. Everyone is human and are individuals, therefore treat your customers the way you'd want to be treated – be sincere and thoughtful without treading into sensitive issues that could result in negative impact to your business.
Do Not Overcommit
If you are saying yes to everything without knowing 100% you can back your words then that is overcommitting because once it gets to the point where you cannot commit to what you previous agreed, you will instantly lose that trust from your customer. It will start impacting your business negatively – especially if you're a start-up and without a large client database. Be honest and just explain why certain things are not achievable at this stage of the business, otherwise you may end up losing revenue having to pay extra to fix what you said you could do.
Mind your Manners
Simple things such as being polite and having manners help elevate your customers experience, it naturally emphasises the professionalism of your business and gives them more trust that your product/service is something that you also care about so it is not just something one-off, rather than something that will continually get developed and improved.
Schedule a Follow Up
Trade shows can get overwhelming and being a visitor, they would have spoken with many other businesses at the same event so it can be easy for them to forget their discussion with you. Make sure you gather their details and ask to see if you can schedule a follow up with them – in the follow up session you are both in a more relaxed environment and can directly remind your potential client of what was discussed (without the distraction of other people) and can check whether there is any additional information they require so they can make an informed decision.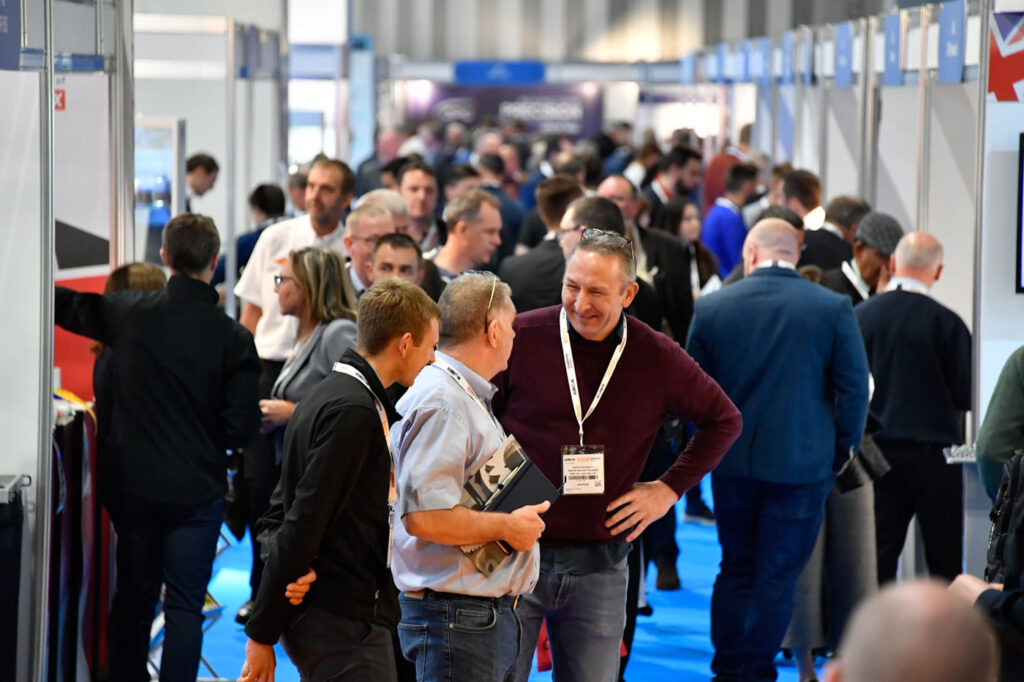 Conclusion
To summarise this trade show communication tips list, it is important to consider the experience from your customers' point of view, there are so many other booths at the same trade show, and they can only remember so much. How can you stand out in front of others? Create a unique and memorable connection with your potential client, the words you use and the way your booth and personal presentation can play a big part in this. Having a well designed and executed custom exhibition booth can be a real challenge and could drain the energy out of you if you are not familiar with it. Let UCON Exhibitions take care of the booth part for you so you can focus your efforts on creating the best experience for your customers by implementing some of our communication tips!