Trade shows, exhibitions, and consumer shows are bouncing back after the Covid break. Now is the time to invest in having a great trade show booth to encourage experiential marketing to achieve customer engagement.
Signage plays a key role in achieving the goals of booth design to entice visitors to your stand. The largest show in the USA is the annual International Consumer Electronics Show which is held in Las Vegas that in 2018 had 3,900 exhibitors using 2.75 million square feet of exhibition floor space. In such a competitive environment, signage plays a key role in standing out from the crowd.
Tip 1. What Is Signage?
You may think that signage and branding are synonymous. Branding is your logo, tagline, colours of your identity, and all the elements that make up your corporate identity.
Signage is how to use branding to great effect both outdoors, indoors, at trade shows, exhibitions, shows etc.
Signage includes:
Placement of logos
Wording
Tag lines
Images of products or inspirational
Displays
Lighting
Pamphlets and brochures
Giveaways
A great example of this is a back wall used at an exhibition for a funeral director. No one wants to see funeral caskets or graves in images. Avbob has very cleverly used an image of a solid thick old tree standing alone surrounded by mountain ranges. Mountains act as a natural bulwark against harshness, enemies, etc. which Avbob has tapped into. It conveys solidity, the 100 years they're celebrating with the tagline "We're here for you".
Great signage is when attractive signage coupled with good design paired with essential information about your business catches the eye and makes visitors come to your custom trade show stand.
Tip 2. Different Types of Signage
There are five key areas of signage:
Digital
Outdoor
Informational
Persuasive
Compliant
Digital Signage
Displays video or multimedia content including touchscreens. Touchscreens take digital signage to interactive space. This is where you can ask the visitor to engage with social media, a landing page that offers a prize, etc.
Outdoor Signage
These are signs on the outside of your building. In an exhibition context, your stand walls and ceiling perform the same function of saying "This is where we are".
Informational Signs
This signage directs you where to go. Think in a hospital environment they use different colour arrows on the floor with signage indicating which colour will take you where e.g. blue for ICU and yellow for maternity. They then continue the theme by painting the units the same colour tying in the verbal and nonverbal signage and queues of where to go.
Persuasive Signage
Think about the sale signs 50% off dotted around your favourite department store. This signage is to encourage visitors to take a desired action from the prompting.
Compliant
Excellent examples include emergency exits, disability parking zone, etc.
Tip 3. Where should signage be located on exhibition stands?
When designing your stand think of a cube. A cube has 6 areas including the floor and ceiling as well as the walls.
Consider all points of view and sightlines. Corner stands are the holy grail of trade show exhibitions because they offer 3 or 4 approaches to the stand depending on whether the stand takes up the entire end of a row or half of one.
The height of a stand demonstrates investment and an imposing structure that makes you stand out from the crowd.
Here Australia Unlimited has used earthy tones of the Outback and pattern and overlaps as well as the height that is evocative of the majesty of Uluru.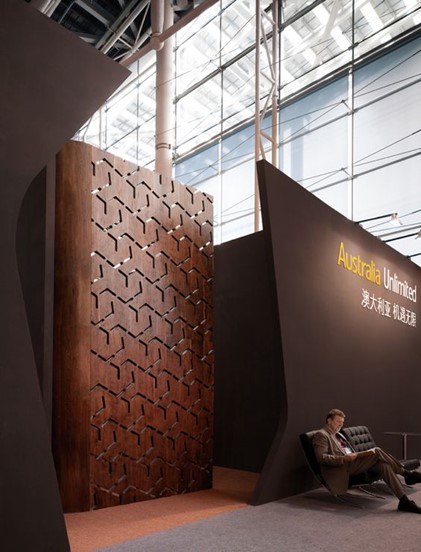 The Aluvision stand hasn't gone much higher than the standard 2.3m stand. By using a combination of LED screens, the neuromarketing image on the corner grabs your eye and encourages you to step through the gateway onto the stand. Height has made the corner image more impressive than it would have at a smaller scale.
Tip 4. What signage should you not include?
Disjointed, difficult to read, blurry words or images are at the top of the list. Signage that doesn't tie into your brand is negative. It shows a lack of care which translates into the visitor's mind that will equate to the service or product you are trying to sell. That will result in money being spent that works against your business.
A negative example is an image on the left. The image on the right uses different images on the same type of pull-up banner. They have used the rule of 3 and staggered the banners to create interest and depth.
Neuromarketing uses proven science to create signage that sublimely works on our buying brain. Research mapped our brain's response to stimuli determining what makes our brain light up when looking at marketing messages. No more guesswork.
Neuromarketing is complex and requires a thorough understanding to implement. The points below are to provide a brief introduction to the concept and the results you can achieve. If you would like to find out more about the science and how to apply neuromarketing read Brainfluence: 100 Ways to Persuade and Convince Consumers with Neuromarketing by Roger Dooley.
For more insights, read Coca-Cola's neuromarketing strategy.
Below is a list of a few neuromarketing tips when creating your signage.
The main image should include either woman, clear flowing water or a path in nature.
The reason for an image of a woman is because we trust women because our mothers are women. We buy from women. Clear flowing water and a path both draw us into nature and calm us.
Eyes. The eyes in your image should be visible. Increase the size of the iris in the eyes slightly.
The main image should be on the right-hand side with the main heading on the top left. This is the Fat F.
Tip 6. Explaining the Fat F of neuromarketing
The Fat F is the neuromarketing design principle to use on every piece of digital, social marketing and signage.
The image should be on the right-hand side.
Your main content should be in the area that is ringed in yellow.
Your call-to-action buttons must only be in yellow, slightly padded, and below the main content.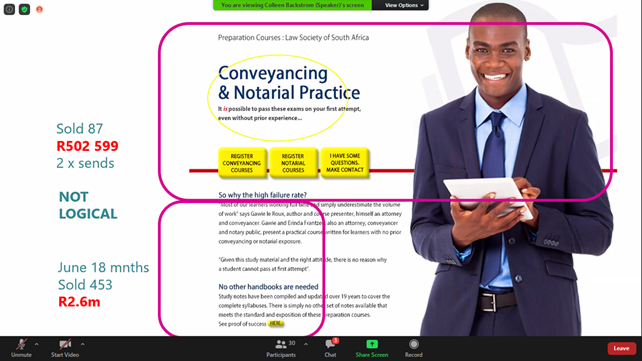 Tip 7. Going beyond the stand
When an exhibitor is walking in a crowded exhibition hall they often look up, especially if there is light or movement that catches their eye. I personally think that investing in extending the height of a standard stand, creating a two-story stand, or building a ceiling element is worth the investment because of the buzz you will create as well as standing out from your competitors.
This can be done using a combination of a built element or lighting or a combination of both. Below are a few examples.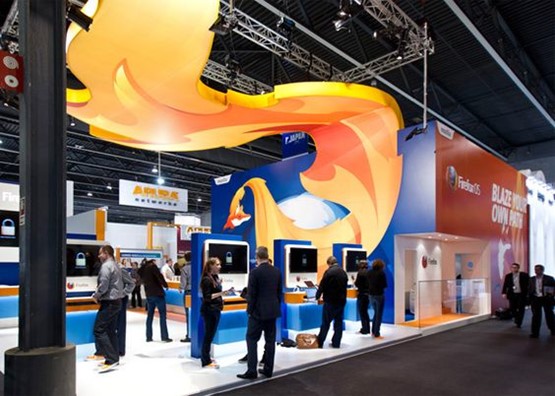 The Mozilla stand used the flame from their logo to create an eye-catching colourful ceiling as signage. It assumed rightly, that everyone would know who they were without having to spell it out in words or symbols.
Both stands above used a similar element with the stand on the right using signage more effectively on each of the fins to tell a story.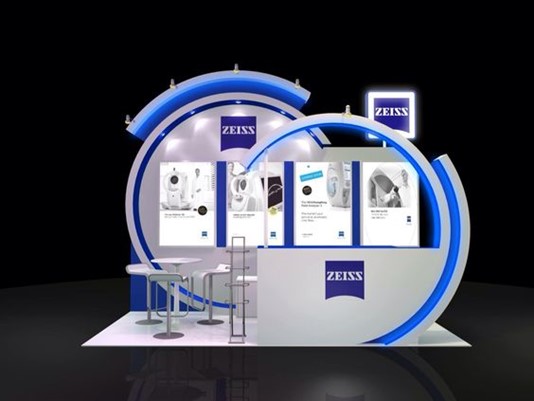 Zeiss has cleverly used a circle motif in their stand to mimic the round of the lenses that they manufacture. The Zeiss logo signage is used at different heights of the stand as well as incorporating the rule of 3.
This custom booth design for State Bank of India also uses the power of the round.
MAC Trucks have cleverly used a round band with lighting with fantastic signage saying "Efficiency around the world" mimicking the globe which is reinforced through the circle that their trucks make on the outside of their stand. They have also used the inside of the round band to continue the message as visitors will be approaching from more than one point onto their stand.
The floor is often overlooked as a place to communicate and engage. Here ZTE used a mirror floor with lighting to enhance the stand signage and message.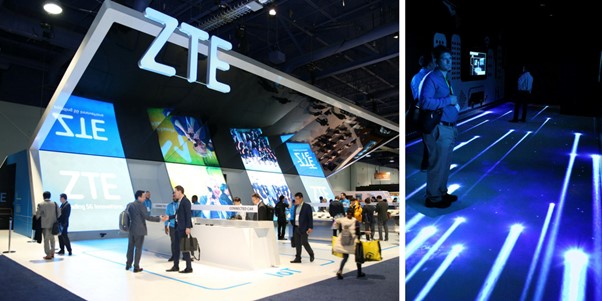 Tip 8. Examples of great signage
BIC has used exhibition signage and the elements of the exhibition stand to great effect. It is a relatively simple stand without gimmicks. They've implemented the design Rule of 3 by having the yellow base, the white curve that also hugs the oval ceiling element. The signage of using an image on the ceiling of their products that slants up makes it visible for visitors to see and immediately demonstrates what the stand company is and what they are conveying.
A little about the Rule of 3 or should I say odd numbers. Our brain for some crazy reason finds odd numbers an interesting visual experience because our eye must jump around. It also ties into the Golden Ratio and the Fibonacci sequence.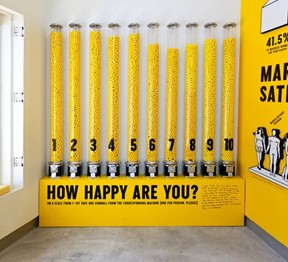 The Happy stand used exhibition signage to achieve two goals. Measurement and sharing of information. On one side of the stand, they asked visitors to take a sweet from the containers indicating their level of happiness. On the other side of the stand, they communicated their findings of levels of happiness in countries across the globe providing the visitor with a scale of where they fit in.
General Electric have very cleverly created various layers demonstrating several parts of their business on the border of their stand and have an integrated lighting and video element in the centre to draw visitor attention with the familiar electric blue of their brand.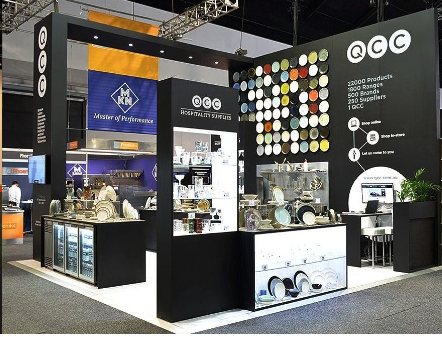 QCC has very cleverly used their products as signage by displaying their crockery as artwork on the back wall as well as having framed custom lit counters displaying their products at different heights to catch their eye and draw visitors. The L shape bar that frames the one end of their stand provides another opportunity for signage to catch visitors coming down that aisle. They've considered all visitor views in their signage within the 90-degree space.
Tip 9. Engagement
Both examples below display call to actions in their trade show display signage. They are cost effective, clear and easy to understand for visitors to take the desired action.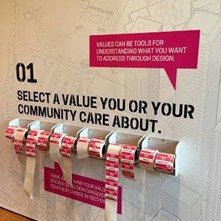 Here signage and lighting have been used to great effect to draw people to take an action. With the added benefit it's cute and makes you smile.
Tip 10. Post Show
Signage is crucial to your message irrespective of whether you are using imaging, lighting or words on your stand. To be successful, all signage including pamphlets and any other handouts need to be cohesive. When the visitor pulls out all the info from their conference bag at the end of the day you want them to pull out your info from the pile because it is a continuation of the engagement and emotions you evoked at your stand.
Use your signage across all media to stand out from the crowd for the right reasons.