If I were to tell you that you have been invited to a virtual event, does that excite you at all? Didn't think so. Off the bat, as a visitor even just the sound of a virtual event seems boring – so if your potential customer thinks it's boring then what is the point of even updating your whole marketing strategy to suit virtual events? Before the pandemic of covid-19, the exhibition industry was booming at an all time high and there is nothing to suggest it won't get back to that point.
Trade shows will most likely come back slowly, which means less visitors but in a way it will the key decision-makers who will attend (no need to filter out your audience). Sooner or later, it will again be back in full force, and you'd want to be prepared for when that happens. If you don't believe me have a read below where we discuss our top 5 reasons why virtual events will not overtake trade shows.
Virtual Events are limited
The fact that you cannot be there in person means you won't be able to display your products and your visitors will not be able to see the real thing in person (it's the same as looking at a digital ad and how likely are you willing to invest based on that?). As an exhibitor you can't even hand out any free physical samples or branded merchandise for your customers as a little something for them to remember you by.
Trying to convince your audience over a small screen feels very restricted and really limits you to do anything creative to impress them to keep them engaged (on your end you won't be able to tell for sure if you even have their 100% undivided attention). Depending on what your core business is about, trying to pitch your product or service through a screen can be very disadvantageous and depending on the circumstances it can even put a negative effect on your business without you even knowing (bad network connection issues from the customers end etc).
People crave Personal Connection
Talking to someone through a screen compared to talking in-person face to face has such a big impact on the way you can connect with a person, it's the difference between having a memorable conversation and one which just gets forgotten as soon as the conversation ends. With trade shows, being able to create that personal connection with customers plays a very powerful role in gaining the customers trust and giving them a positive impression that your business is the right place for them to spend their money – there is no way you can do the same thing virtually because there are so many barriers that are affecting the customers decision making process (internet connection issues, distraction from surroundings, boring presentation etc).
Having that personal connection is as real as it gets, even if the customer is not ready to purchase you at least have engraved that memory of personally meeting you and seeing your products in person for them to take away with them, they can make their own decision rather than relying on other customers reviews.
Trade Shows are more than just Events
Trade shows offer the opportunity for social engagement, for teams to network and speak with others in the same industry to learn from each other and even form partnerships. Trade shows started off as boring conferences which you were often obliged to go rather than be a privilege.
Trade shows have dramatically transformed into so much more over the years, from super custom exhibition booths to creating unique experiences have developed into powerful incentives to attract key player makers to attend trade shows as a "must go" rather than "I'll go if I have time". What happens at expos can often only happen at expos and can only be experienced a certain way to get the full effect and these events are where it is at. As the saying goes, "you snooze, you lose".
Technical Issues
There are so many technical issues that can happen with virtual events, and these can happen at the most inconvenient situations (such as when the grand reveal or when you are discussing the most important part of your presentation). You simply just miss out without even knowing what you have missed out, imagine asking "can you repeat that again" (first it disrupts the presentation flow, secondly, others in the same presentation will hate you for it).
Examples of these technical issues are endless, it can start with sound clarity, then video quality, internet connection then the app crashing – the list goes on and there is not much you can do about it (possible rewatch the recording), but by then everyone would already be talking about the thing you missed and because of these technical issues you've been left behind the pack. These technical issues may also make your business seem inferior as people may judge you for not being able to have the right equipment prepared in case these issues happen etc.
Virtual Events are Pointless to Sponsor
Being a sponsor at virtual events will just put your logo in front of the screens, who even looks at those and decides to search it up? Realistically what are you getting out of being a sponsor at virtual events, you are investing more into the event with a low attendance and engagement rate from the audience which means from an investment point of view it will be a very low ROI and nothing more than that.
As much as event organisers attempt to create an engaging virtual event, they can only do so much until it starts to get stagnant and plateaus very quick because you already know what to expect and then it is just a matter of attending "another virtual event" in front of a screen. Compared to trade shows, you don't know what to expect because each exhibitor has so much freedom to do creative things with their booths and utilise different activities to maximise their presence and visual appeal to attract more customers.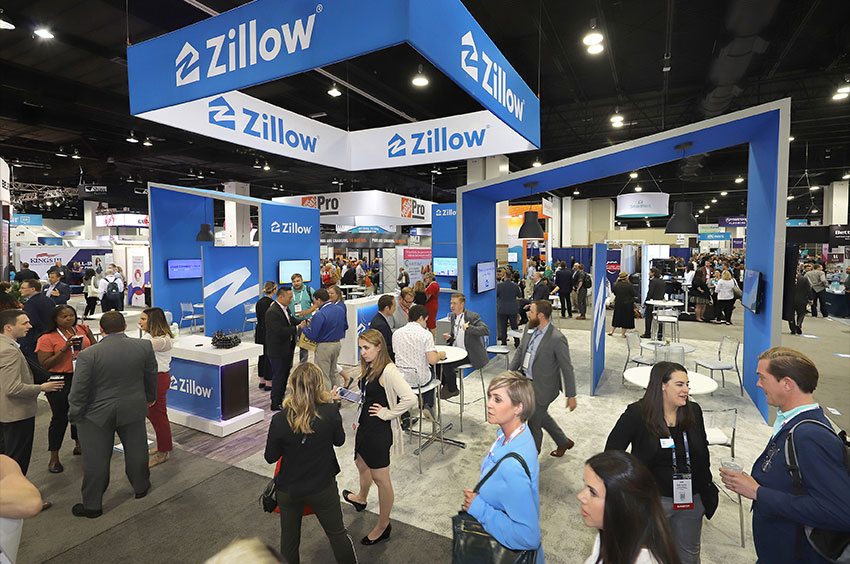 Conclusion
To conclude, it does not take much to understand how virtual events will not overtake trade shows, there are so many variables in play where just one hiccup during a virtual event will ruin your whole experience and because of the limitations, there is not much you can really do to set yourselves apart from the crowd. Although covid-19 has brought trade shows to a standstill, there is no doubt it will come back thriving – people would have been fed up with virtual events and cannot wait to get back into in-person events again. Start preparing early because once trade shows are back in action, slots are going to fill up fast – reach out to UCON Exhibitions today and secure your spot before it runs out.